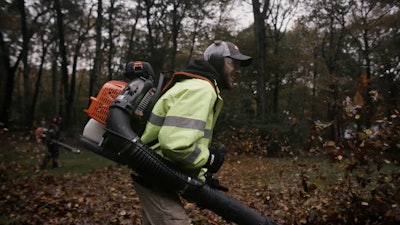 ECHO
One of the biggest challenges that landscape business owners face right now is hiring. When it comes to recruiting new team members, looking at the younger working generations—namely, Millennials and Generation Z—makes a lot of sense right now. Young workers are the future of our industry. Even so, these highly coveted workers are not easy to recruit.
We spoke to Alex Carey, owner of A. Carey Landscaping based in Coventry, Rhode Island, as well as Josh Currivan, owner of Currivan Green Co., Inc., of Andover, Mass., to find out what they're doing to attract more young people to their companies. Carey was recently named an ECHO Hero for his perseverance in the landscaping industry and Currivan is a member of ECHO's User Advisory Group.
Satisfaction for a job well done
Carey says that what attracted him to the landscaping industry in the first place (and what he thinks appeals to other young people), is the opportunity to be involved in transforming a property. There aren't a lot of jobs where you are able to see such a difference in the "before and after," he says.
"It's something that sets our industry apart," he says. "You get to see that transformation. I think a lot of people who embrace our industry really do enjoy seeing the outcome. Even when I was little and started with just mowing, I loved seeing the stripes."
Carey says that he's a very visual person and thinks that many who appreciate this industry are, too. Trying to appeal to that interest is one potential recruitment tactic.
Company culture
A lot of research is also pointing toward the fact that younger generations are very interested in company culture. They care about a positive work environment and a strong team-oriented culture, says Currivan.
They also care about quality of life and seek out companies that care about work/life balance.
"A lot of young people have families, and they want to be able to spend time with their kids and not miss their ball games or recitals," Currivan says. "Even though we get incredibly busy in the spring, we know that we can't overlook our teams' quality of life. We try not to go later than 4:30 and try to keep it to five days a week. We do present an opportunity for overtime."
Currivan says that good company culture is also about making sure team members' voices are heard.
"It's about more than just money," Currivan continues. "Family has to come first. You have a sick kid or a game—that has to be a priority. Your kids are only kids once. Young people want to find a job where their time is respected."
Using the power of your team
Another strategy that Carey uses when recruiting is to let his team members help. He has found that his existing team has helped to bring in new people by talking about the job.
"I really don't do a lot of advertising but have been fortunate that a lot of times, our team goes out and talks to their friends and family," Carey says.
It ultimately comes back to company culture. If you focus on being a place where people want to work, they'll talk to others about their positive experiences. And that kind of recruiting is a lot more authentic and powerful.
Perks and benefits
Currivan says that another consideration is perks and benefits. He says that landscape business owners should consider "outside-of-the-box" benefits.
"Not every company can afford to offer full benefit packages, but they might be able to offer matching IRAs if they cannot afford 401ks—or other perks like a tuition reimbursement program," Currivan says. "We offer our employees gym memberships, which has been a very popular, outside-of-the-box perk."
Accept this career path may not be for everyone
At the end of the day, the landscape industry certainly isn't for everyone. As Currivan points out—it's extremely hard work. And as much as people love spending time outside, Currivan says that laborious work in the heat of the summer just isn't right for everyone.
"We have had people who could not get past that two-week mark because it was just a lot harder than they thought it would be," he admits. "So, we're honest and upfront about that. We say this can be grueling work—but it's also very rewarding."
A lot of it comes back to that company culture, Currivan adds. Your team is working hard for you—you need to show them respect and that you value their time.
"There are always going to be those people who say this isn't for me," he sums up. "But when you find people who are the right fit, it's important to treat them well and keep them around."