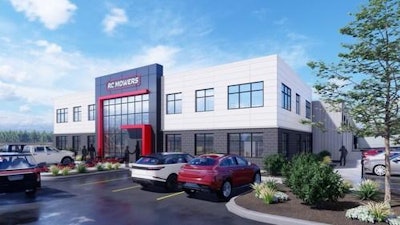 RC Mowers
RC Mowers, a manufacturer of remote-operated robotic mowers, has begun construction of a new $4.8 million office and production facility in Green Bay with plans to begin operations there in February 2023.
"RC Mowers has doubled our revenue every year since our inception four years ago, and this new facility will alleviate the growing pains we're experiencing as a result of our success," said RC Mowers CEO Michael Brandt. "Investing in this new building will allow us to grow our manufacturing capabilities as our product line continues to expand, and the additional office space will accommodate our expected employee growth over the next several years."
Founded in 2018, RC Mowers manufactures remote-operated robotic mowers for commercial use. The mowers are built to safely mow steep slopes, difficult terrain, and other hazardous landscapes, resulting in decreased labor costs and greater profitability. The mowers comply with or exceed, ISO and ANSI standards.
The 36,300-square-foot building is located on a 7-acre site adjacent to the company's current location. It will feature 9,300 square feet for office operations and another 27,000 square feet of production space. The facility will provide the growing robotics mower manufacturer with three times the space it currently has.
"RC Mowers has a clear growth strategy, and this new facility is key in helping advance these goals," Brandt said. "This facility will enable us to continue providing quality, American-made robotic mowers and shows our commitment to the future of this industry. With our current and future product lines, we are redefining the business of mowing."
STIHL Inc. and Briggs & Stratton announce new manufacturing relationship
STIHL Inc. and Briggs & Stratton have announced a new manufacturing relationship that will expand the offerings of STIHL products in the U.S. Through this relationship, STIHL will launch a line of zero-turn mowers for professionals and homeowners. The new products will be available in select authorized local STIHL Dealers beginning in January 2023.
STIHL, known worldwide for products with innovative technology and outstanding performance, will add zero-turn mowers to its ever-expanding line of outdoor power solutions for landscaping, tree care, construction, cleaning, and gardening. Combined with the existing gasoline and battery-powered handheld outdoor power equipment range, the addition of zero-turn mowers allows STIHL and STIHL dealers to provide one of the broadest ranges of outdoor power equipment in America.
Briggs & Stratton will manufacture the new line of zero-turn mowers to meet STIHL specifications and quality standards.
"The introduction of zero-turn mowers allows our network of authorized local STIHL Dealers to offer an even greater breadth of product solutions for our customers who turn to STIHL for world-class products and support to meet their garden and landscape needs," said Terry Horan, STIHL Inc. president and CEO. "Working with Briggs & Stratton, a well-established leader in this product category, allows us to bring a superior product to market for both demanding professionals and discerning homeowners."
"We take great pride that STIHL has seen in Briggs & Stratton what we have known for years - we design, engineer, and manufacture the best zero-turn mowers on the market," said Steve Andrews, Briggs & Stratton president, and CEO. "With a 114-year legacy of power application and manufacturing expertise, Briggs & Stratton is a trusted leader in this industry, and we look forward to applying our superior product and manufacturing capabilities to produce STIHL zero-turn mowers."
Green Lawn Fertilizing promotes Josh Willey to chief operating officer
Matt Jesson, President and CEO, of Green Lawn Fertilizing / Green Pest Solutions names Josh Willey the company's chief operating officer.
In his new role, Willey will oversee all lawn and pest operations, facilities, human resources, and sales – while owning the company's profit and loss. He will also continue to shape and manage the company's leadership development program which he started in 2019. Willey brings his natural people skills and high aptitude into his new COO role, which will help achieve the company's aggressive growth goals.
Jesson announced the promotion during the mid-year managers' meeting.
"I am so proud and thankful for all of Josh's accomplishments over the last five years," Jesson said. "I am looking forward to where his outstanding leadership will bring us over the next five years and beyond!"