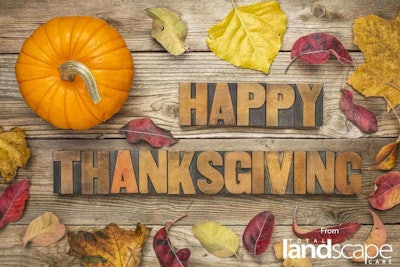 Another Thanksgiving is upon us and Total Landscape Care wants to take a moment to say we are thankful for YOU, our readers.
In the spirit of the season, we asked some other Green Industry professionals to share what they're thankful for this year. Here's what they had to say.
Many reasons to be thankful
"I am thankful for the people that surround me in both my personal and professional life. I feel energized on both sides and confident that whatever happens in front of us we will overcome."
Joshua Malik, president of Joshua Tree Experts with locations in Pennsylvania
"I'm thankful that my family and dog are healthy. I am looking forward to spending time with family and friends during the holidays as well!"
Madison Malik, director of sales and marketing for Joshua Tree Experts with locations in Pennsylvania
"I am thankful for our hardworking, dedicated staff who has stuck through the difficult times of the last few years (like Covid and all its restrictions, protocols, confusion, and uncertainty). I am also thankful for the continued health of our team and the support and professionalism of our fellow landscape industry peers, especially those we've met and forged bonds with who we have learned we can rely on as partners, not competitors."
Timothy Trimmer, president of Professional Grounds, Inc., in Lorton, Virginia
"First, I'd like to say how thankful I am for my family and friends and their love and support, their friendship, and their guidance. Without those people in my life, I wouldn't be who I am today. Secondly, I would like to say how thankful I am to be surrounded by so many people, whose talents have allowed us to create this incredible opportunity for all of us. I don't know how or why I was given this opportunity but, I am so thankful. And lastly, I'd like to thank the men and women who've made many sacrifices to provide the freedom that we have which allows us to accomplish what we have in our lives."
Rob Reindl, founder and owner of Oasis Turf & Tree in Loveland, Ohio
"I am thankful for God-given creativity and for relationship building with clients through the design and implementation process. I am thankful for troubleshooting and problem-solving through the myriad of client wishes, needs, and budgets...along with site constraints and municipal requirements....it is a satisfying puzzle. I am also thankful for gifted project managers and crew members who are able to bring my designs to life! And, of course, for projects that finish under budget!"
Mary Dresser, RLA, ASLA, a registered landscape architect with Earth, Turf, & Wood, Inc., in Denver, Pennsylvania
"In this new, 'post COVID era' and with the inflation pressures that we all are facing…I am profoundly thankful for my team. Their dedication and determination continue to impress me on a daily basis. Despite all of our personal challenges, we all show up with smiles on our faces, a positive attitude…ready to get things done. It is precisely this for which I am most thankful!"
Krisjan Berzins, president of Kingstowne Lawn & Landscape in Alexandria, Virginia
"I'm very thankful to have an amazing work-life integration. My team mates at Landscape America are my friends and family (some literally) and it's so rewarding to accomplish things with people who are so close with one another. I'm grateful for my wife and two daughters for creating so many amazing memories and experiences each year. And for my network of friends in the landscape industry, who inspire me to push harder each day, and improve a little more than yesterday."
Doug McDuff, MCLP, MCA, president of Landscape America in Wrentham, Massachusetts
"I am thankful for being surrounded by a great team that lives our culture every day. They are People Fires, Passionate, Driven, Masterful, and Intentional. These are dying attributes in today's society and I am so thankful that they are alive and well with Team Orange!"
Bob Grover, president, Pacific Landscape Management in Hillsboro, Oregon
"As an owner, I am thankful for my family. My wife and two children. But it doesn't stop there. I am thankful for the 120 other people I call my family. The team at North Point Outdoors. It is their collective efforts that make my life, my business partner and family possible. Although we are a large group, the bond runs close."
Andrew Pelkey, COO of North Point Outdoors in Derry, New Hampshire
What are you thankful for this year?
Perhaps some of these resonate with you or perhaps there are other reasons you are thankful. Take some time this holiday to reflect upon what brings you gratitude both in your personal life and your business.