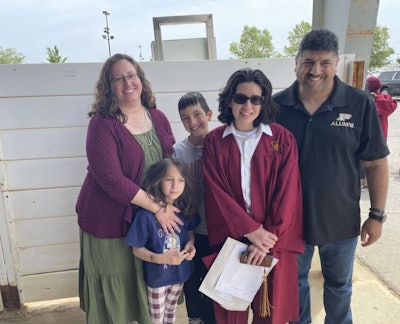 Columbus area military spouse Jodie Arreguin had experienced this before. In the spring of 2022 her husband, a seasoned member of the Ohio Army National Guard, was slated for deployment to the Middle East scheduled to begin in May 2023 for a full year.
He had deployed one other time – 18 years ago — during his first marriage. Since he and Jodie got married, there were five deployments scheduled, and each ended up getting canceled due to promotions and late changes in orders. But this most recent one would be different.
"A year's warning is almost too much warning, to be honest," recalls Arreguin. "Because of what had happened up to then, it didn't really hit me until Thanksgiving that he was actually going to deploy, and that's when we started making all the financial and personal arrangements we needed to make."
They pulled the kids together and gave them the news over the holidays and started the countdown to deployment.
Connecting with GreenCare for Troops
Arreguin was fortunate to be plugged into the Family Readiness Group for the area, where she served as secretary. The group's president, a veteran wife of multiple deployments of her own husband, provided her with a ton of ideas for getting assistance, including GreenCare for Troops. And while the mowing was already arranged, her husband had taken immense pride in keeping the landscape looking great in a variety of ways.
"I had not looked into lawn care services during our readiness preparation, but I had not realized how much effort Rick put into the yard in a year," says Arreguin. "With his being gone during the early spring and summer seasons, I knew it would need attention and that I would have absolutely no time for any of that."
Arreguin works full time, and she and Rick have a 19-year-old stepdaughter and two younger ones ages 10 and 6 at home which keep the household busy.
With patches of clover rapidly emerging, Jodie contacted GreenCare for Troops, and within a couple of days, a match was found in ExperiGreen Lawn Care. The company, which signed up all six of its locations for the program in early 2022, was thrilled to be given the opportunity to be of service.
"When we had the initial conversations with Jodie, we just talked on the phone about some of the struggles she is experiencing as a full-time parent and single mom," says Shawna Fisher, senior coordinator-social media, and brand strategy, "It's been a lot more than she expected or was prepared for." The company even added some additional complimentary services to the program to address different issues they found throughout the summer.
"The company was super excited to help us, and they've been amazing to work with," says Arreguin. "The clover is getting cleaned up and the yard is looking great. It is so nice to pull into the yard and see things in order, even if some days I feel like things are falling apart.
"One of the great things about this," adds Arreguin, "is that when my husband comes home, he will not have to look out at the yard and think about all the work it will take to get things back to the way he wants them. ExperiGreen Lawn Care has it covered, and I do not have to think about doing anything with it."
For ExperiGreen Lawn Care, giving back to the community is a key aspect of the way it wants to do business. "We are honored to be able to do our part to support the Arreguin family while Rick serves our country, and we thank them for their sacrifice," says Fisher.
Why are green spaces important to military families?
Parks, lawns, landscapes, and maintained green spaces help to mitigate temperature increases in communities and significantly reduce energy use and cooling costs. Project EverGreen's initiatives – GreenCare for Troops and GreenCare for Communities – have made a significant impact.
Through its nationwide base of professional volunteers, Project EverGreen has connected people, plants, and their communities to maximize the health of grass, plants, and trees, which in turn sequesters carbon and cleans the air. Both initiatives support healthy green spaces in neighborhoods and cities, enabling maintained green spaces to function as the lungs of the city and offsetting the negative effects of a warming environment.
A single group or individual cannot transform lawns, landscapes, and parks but Project EverGreen's coalition of businesses and individuals helps maintain green spaces so they can thrive.
Become a volunteer
Are you ready to step up for a military family? Register today
The Title Sponsor of the GreenCare for Troops program Title Sponsor is Nufarm. SnowCare for Troops program in BOSS Snowplow. Platinum Partners include Toro, SiteOne Landscape Supply, AMGUARD Environmental Sciences and Heritage Landscape Supply Group. The Silver Partner is Arborjet/Ecologel.
Affiliate Partners include the Connecticut Grounds Keepers Association and the Florida Nursery, Growers and Landscape Association.
GreenCare for Troops is endorsed by the National Association of Landscape Professionals