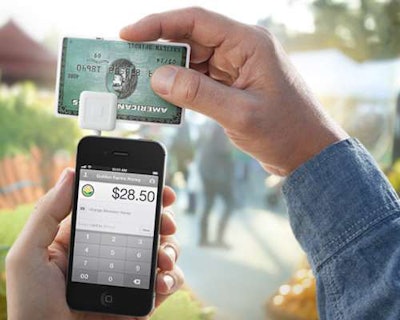 Invoices that are not paid on time can result in major headaches for any number of businesses, but late payments can be especially troublesome for landscaping companies that depend on steady cash flow to keep things running smoothly.
One way to improve the situation is to offer customers a chance to pay while you're still interacting with them. If you've just finished mowing a customer's yard or mulching some flower beds, this is an opportunity to go ahead and get paid as well.
This physical transaction reassures both you and your customer that they have paid in full and their payment information won't fall by the wayside in a pile of paperwork.
Seeking payment when services are rendered creates face-to-face time with your customer, helping you build your relationship with them, and also gives you a chance to mention other services you provide. For example, an informal discussion about the holidays coming up could lead to you getting their business for installing Christmas lights or providing seasonal container design.
In the past, being paid in the field was a hassle. Today, though, a majority of payment processing devices will integrate with software such as QuickBooks, ensuring your records remain current even though no invoice was sent.
True, some customers may prefer to be billed for your services, but many will appreciate the flexibility you give them by accepting payment as work is completed.
There are numerous options when it comes to accepting mobile payments. Here's a look at three of the most commonly used platforms.
Square is one of the most popular point of sale solutions out there and can sync all of its sales transactions with QuickBooks. Those who sign up with Square are provided with a free card reader that accepts magstripe cards. Additional magstripe readers cost $10 at a retail store, but they come with a $10 redemption code.
Users can also buy chip card readers that can read the traditional magnetic stripe cards, the EMV chip and accept contactless payments for $49 a piece.
Square charges a flat fee of 2.75 percent per swipe regardless of the card type. If the transaction is keyed in it will cost 3.5 percent plus 15 cents. Users receive their money in one to two business days.
Another payment processing platform that works with QuickBooks is QuickBooks' own GoPayment. This mobile app works with both iPhone and Android devices, but not Windows or Blackberry devices. QuickBooks provides a free card reader and offers two pricing structures.
Users can either pay 2.40 percent plus 25 cents for every swiped transaction or they can pay $20 a month to lower the swipe rate to 1.75 percent plus 25 cents. If you choose to key in the transaction, this will cost you 3.4 percent plus 25 cents and 3.15 percent plus 25 cents, respectively. Additional fees are incurred if the customer uses a Discover, American Express or business rewards card.
If additional card readers are needed, these are $10 each and the EMV card readers are $30 each.
PayPal is often used for online payments, but it also offers a mobile payment option through its app PayPal Here. For those who want to use this point-of-sale system, the first mobile card reader costs $14.99. Users can accept credit cards, PayPal funds and even checks with the PayPal Here app.
The fee for swipes is 2.7 percent and checks accepted through the app are free. Keyed in transactions cost 3.5 percent plus 15 cents.
Remember, these are just a few of the payment options out there. All have slightly different terms so be sure to shop around for what best fits your company and its operations.