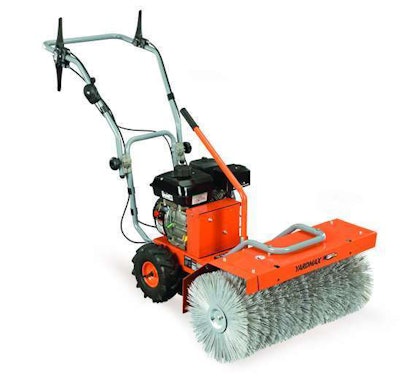 From time to time, a consumer product is bound to catch the eye of professional landscapers, and the new power sweeper from YARDMAX may be one of them. For companies handling snow removal, the compact size of the machine, which can handle snow accumulation up to 6 inches, is one attraction.
Another is the sweeper's nylon brush, which won't damage the surface below, according to YARDMAX.
This sweeper is powered by a 208cc Briggs & Stratton engine with 9.5 ft-lb torque, enabling to blast through snow, dirt, sand, gravel and other debris on sidewalks, driveways and decorative surfaces such as brick patios. The nylon brushes spin at 520 rpm and can be set for three different sweeping directions.
YARDMAX boasts of the machine's ergonomic design and adjustable handlebars. With a 28-inch sweeping width, the nylon brush is 14 inches in diameter and can be run in forward or reverse. The sweeper is offered with an optional dust collection bucket.
YARDMAX offers a two-year residential warranty and a 90-day commercial warranty on the sweeper, which carries a manufacturer's suggested retail price of $599.
Here's a video about the machine:
Evatech says Goat robot is ready for risky work
With a snowplow attachment used for its latest demonstration, the team at Evatech says its Hybrid robot 22T series has been engineered to perform tasks that are too risky or uncomfortable for humans.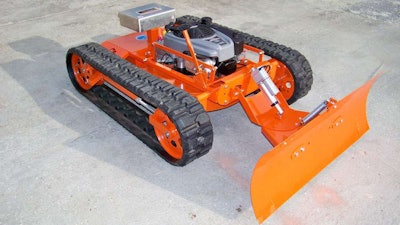 The 22T series machines are commercial grade units, Evatech says, and the Goat's tracks prepare it to handle virtually all types of terrain. Piloted via remote control, the 22T series will reduce the labor cost associated with slope mowing, the manufacturer says, as well as being a sensible option for dangerous sites such as highways, water reservoirs, dams and solar power plants.
The mower has a 22-inch cutting width, and the hybrid engine operates on both gasoline and electricity. The Goat 22T series is 48 inches long, 38 inches wide and 25 inches high. It weighs 330 pounds.
The snowplow attachment is 36 inches wide and is easily mounted on the hybrid Goat 22T. The universal controller can lower and raise the plow.
Evatech Corp. was founded in August 2003 by Luis M. Medina of Tarpon Springs, Florida.
Here's a video on the machine from Evatech: