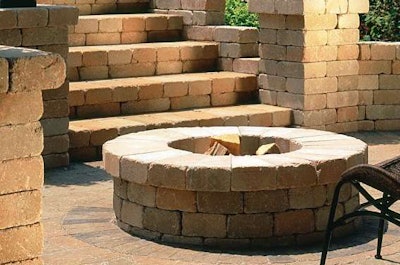 Like any industry, patio paver trends are cyclical, and this is the perfect opportunity to gain new customers or re-sell existing ones. Maybe a customer's housing needs have changed and they want to go from a more traditional look to a minimalistic one, or they want to include permeable paving.
According to Ken O'Neill, vice president of Belgard Hardscapes, this year there is economic pressure to make pavers more cost effective per square foot. "Our customers want the same functionality they've had in the past, but many are trending back to old-style pavers," he says. "Housing lines are cleaner, architecture is changing, and so to are the products around the home. Regardless, pavers should fit with a home's style."
Belgard is ramping up production on more natural-looking products such as its random-cut Mega-Arbel flagstone with a natural texture on top and modular Urbana Stone with a slate texture. Where red/charcoal color pavers were popular several years ago, the company is staying in the buff and earth tone family, which is more natural to many markets.
For Nitterhouse Masonry Products, the use of manufactured slate paving stone is on the rise among its customers. "Because it's a manufactured product, it's consistent in size and shape, and is therefore very cost-effective for installation," says Mark Williams, product manager. Slate stone is being used in a wide variety of applications from outdoor fireplace mantels to outdoor kitchen countertops.
Williams says his customers are looking for stones with tight joints that seldom present a tripping hazard, won't be a maintenance issue over time and are easy clean. "A lot of homeowners are tying different parts of their outdoor space together: maybe installing a large slate paving stone on a countertop, then using the same colors and shapes on the patio as well," Williams says.
Techo-Bloc, a manufacturer of landscape and masonry paving stones serving the United States and Canada, is getting requests for larger-scale, natural-looking textures, including flagstone replicas. "Things are much more contemporary and linear," says Alec Veilleux, director of marketing. "Many people are looking to make the most out of smaller homes and want to create a beautiful exterior living space."
Education abounds
If you're thinking of adding hardscaping as a service, now is a great time. Due to the economy, there are fewer people to compete against. According to O'Neill, it's important to have a local distributor who has a good relationship with the manufacturer. "Nothing's better than having good local support," he says. "Once you're on the jobsite, no homeowner wants to be the test-run, because even small projects might run about $12,000."
"Nitterhouse slate paving stone is a great product for all installers, but especially new ones, because it installs like a standard paver and the learning curve is very low," Williams explains. "We also offer many online tools, including a layout program, to help our customers sell and design installations."
The Interlocking Concrete Pavement Institute (ICPI) sets the standards for hardscape installation, and most manufacturer training follows these standards. Most of Techo-Bloc's customers work through their local dealers for training. The company offers classes in conjunction with ICPI ranging from product knowledge and marketing to installation.
Economical luxury
ICPI estimates the hardscape industry is down about 30 percent over this time last year. Because pavers are still considered a luxury item in the United States, customers may be more concerned with price than functionality.
"I think it's an education point," O'Neill says. "We can do a killer backyard for $40 a square foot, and if you're in the right location, you're going to use the space almost year-round." Belgard's initial roots were in commercial pavers, but when residential installation took off, the company fed that niche. "Permeable pavers started in the commercial industry, but I wouldn't be surprised if the residential market picks them up for their durability and to be environmentally friendly," he says.
Nitterhouse's specialized products make it easy to increase the distribution radius. "We've worked to increase the radius to offset any loss, and to find regions where the economy hasn't hit as hard," Williams says. "Some parts of the country are doing better than others, and it's hard to know if it's because of the location, the customers or the landscapers getting out there and pitching services."
Because they serve two markets – Canada and the U.S. – Techo-Bloc is seeing two different economic climates at work. In the U.S., there are a lot of smaller-scale jobs and customers are planning things in phases instead of building the entire backyard at one time, Veilleux says. But in Canada there has been incredible growth. "Zen-like features are very popular. They want the complete package; you name it, they want it."
The main goal of hardscape installers is to create a space their customers don't want to leave. "I don't want people moving out of their homes every three or four years," O'Neill says. "I want them to stay and invest in their homes; enjoy what they've worked for and put time and effort into."