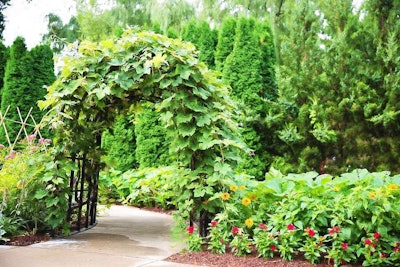 Arbors are no longer stand-alone architectural features; they're integral components of outdoor rooms. Compared with a few years ago, arbors today tend to be larger and incorporate more features, including heaters, misting systems, speakers, lights, retractable awnings and even televisions, says Russ Cletta, senior landscape architect and garden designer for Estate Gardens by ValleyCrest in Calabasas, California.
Arbors define outdoor kitchens and living rooms by providing a sense of enclosure. The structures are typically the size of a small- to medium-sized room. Cletta says the trend is toward large arbors, usually 12 feet by 12 feet or bigger. But he cautions against building a structure overly large for a particular area. "Think of designing an arbor as creating an outdoor room and build it large enough to house the activities you see taking place there while still keeping it in scale for the space and the elements surrounding it,"says Daniel Lopez, a senior landscape designer.
Jeff Brown, president of NV Landscape in Santa Clarita, California, says you should consider each site individually and size arbors in proportion to the property's architecture.
Placement: anywhere goes
Pool-side arbors and those that take advantage of impressive views are popular. Homeowners are also requesting arbors built against or near their homes so they can extend indoor living spaces to a protected outdoor room, Lopez says.
Other locations work as well. "Away from the house in garden areas, along pathways or at the edge of the lawn they provide a welcoming retreat and give architectural definition to a space," Lopez says.
Brown often uses arbors in spaces that lack a focal point. In one project, for instance, he placed an arbor at the far end of a pool, away from the house. It connects the pool to the rest of the property and creates a destination. "You gravitate toward it," he says. Another good location for an arbor is a side yard between two close-sitting houses. A window on the side of your client's home might provide a view of nothing except an exterior wall belonging to the neighboring house. Brown says you can build an arbor, add lights and foliage, and you've created something the homeowner can look at rather than look beyond.
Wooden arbors reign
While most arbors are built with traditional materials, Lopez says he's been designing an increasing number of contemporary arbors made of plastics, fiberglass grating, metal beams, Cor-Ten steel and perforated metal panels.
Wooden arbors are still the most requested, Cletta says, but the large structures property owners often want require steel beams for support. You can preserve the traditional look by cladding the steel beams with wood. More detailed and ornate conventional arbors are making an appearance due to an abundance of companies providing pre-cast architectural columns and ornamentations, Lopez says. These manufactured items are a low-cost alternative to authentic pieces that would bust the budgets of most projects.
The majority of arbors Brown's company designs are wooden as well, but the style tends to be one of elegant simplicity. "People want larger, more substantial timbers" that firmly anchor the arbor to the ground, he says. One of the ways he accomplishes this is by encasing the lower portion of the arbor posts in stone and concrete masonry. He uses similar masonry in other parts of the landscape to produce a seamless appearance.
It all starts with design
The most important thing to remember when choosing a material or style for an arbor is to make sure it matches the architecture of the house or building. Brown says he's seen many well-crafted arbors that were flawed because the landscaper failed to do this.
"Architectural style is important," Lopez says. "It is a smart choice to reference in some way the architecture of the house." Brown says he does this by painting his arbors a color pulled from the palette used on the house.
If designed correctly, the arbor will seem like one element in a harmonious whole. "Everything connects," Brown says. "There really is a thread that binds it all together."