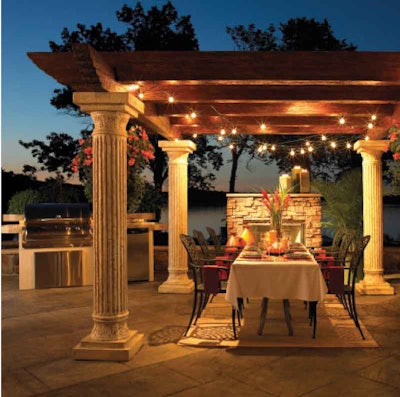 From masonry kits to pizza ovens, here are outdoor kitchen trends you can build on.
More of your customers are storing their over-sized umbrellas, wobbly picnic tables and fold-up grills in the garage and transforming their backyards into entertainment areas with kitchens.
Expand your services and business by taking advantage of this fast-growing market. "Outdoor kitchens and living areas are the bright spots in this industry," says Joe Rider, president of Stone Age Manufacturing. Here are three trends that surveys and industry insiders say can provide you with the best opportunities.
1. Budget-minded choices
Many homeowners are choosing to go with less extravagant outdoor kitchens than seen before the economic recession, so be creative with the features and appliances you include. "People are being more economical in what they're including in their outdoor kitchens," says Nancy Somerville, executive vice president and CEO of the American Society of Landscape Architects.
However, being economical doesn't mean clients wish to skimp on all of their kitchen ideas. "Clients have seen these grand kitchens with ice makers, wine coolers, beer taps, warming ovens, fire pits and more," says Rob Whitaker, chief of design at FineHouse. "They want it all, but sometimes they can't have everything because of their budgets." Key advice: Ask the clients to choose their favorite element and base the design around it.
Another way to hold the line on costs is to build the outdoor kitchen near the client's house and indoor kitchen. Take into consideration permanent structures you will have to build around and the proximity to existing utilities, such as gas, electricity, water, plumbing and drainage systems. Being closer to the house can also eliminate the need for appliances such as sinks or refrigerators, which can be pricy additions.
2. Kits growing in popularity
If you don't have professional masonry or woodworking skills, outdoor kitchen kits can be a game-changer, says Rider, a third generation mason. "Kits give you the ability to target any size kitchen project," Rider says. His company offers 22 standard shapes and sizes of modular masonry kits, but the kits can be customized, making the possible configurations endless. Stone Age's most popular kit size is the mid-range, 12-foot-long island, which can be assembled in about an hour with a group of workers.
Their islands support granite and solid stone tops, as well as large grills. The kits are not pre-cut for appliances, making it possible to cut holes to accommodate any brand of appliance. "Kits allow you to really be creative," Rider says. "There's no limitation on what you can do. Every customer has his or her own ideas, but you need to know you're not limited on what you can offer them, no matter what your experience level."
For outdoor enjoyment no matter the weather, create a covering for the kitchen using a pergola kit, Whitaker suggests. Pergolas are not only trending, they are also practical. They extend the kitchen's use, blocking rain and providing shade, and help make the area into its own outdoor room. You can also install lighting on the pergola for nighttime entertainment.
3. Pizza ovens
With many homeowners looking for a more natural way to cook, the pizza oven continues to rise in popularity. "Pizza ovens are our hottest item for outdoor kitchens," Rider says. "Clients want to duplicate restaurants' wood-fire tastes at home." Clients are not confined to only cooking pizzas, however. They can also bake breads, casseroles and meats. "I never cease to be amazed at what people cook."
Although popular, pizza kitchens can require long cook times, something that may deter some homeowners. If your client is concerned with the cooking time consider a more modern, user-friendly pizza oven, such as one from Kalamazoo Outdoor Gourmet.
Kalamazoo's gas pizza ovens, which are one of their top selling items, cook pizzas in about 20 minutes, instead of three hours like some outdoor ovens. "In California, pizza ovens are the norm, instead of the exception," says Russ Faulk, Kalamazoo's vice president of products. "It gives clients more things they can do at home, and it takes the drudgery out of week-night meals."