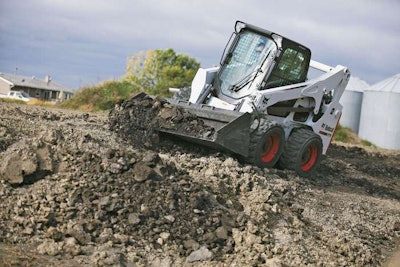 Here are some great skid-steer safety tips to share with your crew from Shawn Warkenthien, product safety manager, Bobcat.
Ensure someone from your company has called 811 or your local One-Call system and any utility companies that do not subscribe to One-Call. Do not dig until all utility lines are marked.

Know the operation of the skid-steer loader, including the purpose of all controls, gauges and indicators, and how to follow the manufacturer's warnings and instructions for safe operation. If you don't know, ask for help.

Check and use all available protective and safety devices such as roll-over protective structure (ROPS), seat belt, falling-object protective structure (FOPS), safety signs, lift-arm support devices, back-up alarms, guards, etc. Never operate a skid-steer loader that has been damaged or modified.

Know the work area and others working there. Keep bystanders away from the skid-steer loader when operating and always look in the direction of travel.

Handle the load safely. Do not exceed the skid-steer loader's rated operating capacity, and plan operation to load, unload and turn on level ground.

To leave the skid-steer loader: Lower the lift arms and place the attachment flat on the ground, engage the park brake, make sure all controls are locked or in neutral and stop the engine.

Never stand or reach under raised lift arms unless they are properly supported with an approved lift-arm-support device.
For more skid-steer safety tips, check out "Safety Watch" in our July issue.