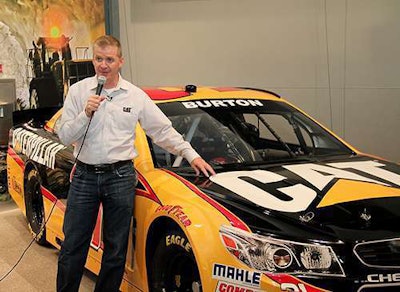 Similar to our Landscaper of the Year program, our sister publication Equipment World has an annual Contractor of the Year. The finalists won a trip to Las Vegas where they enjoyed time with NASCAR driver Jeff Burton.
The driver of the No. 31 Caterpillar car gave a short talk, answered questions and posed for photos with the 12 finalists and their wives Friday night in Las Vegas. Accompanying Burton was Mike "The Bagman" Bagley.
Burton especially lit up when asked what it was like to drive the new Gen-6 cars on the fairly short Las Vegas Motor Speedway.
"We've had a lot of 2013 test sessions at 1.5-mile tracks. There are going to be a lot of questions at Las Vegas (Motor Speedway) for every team," he says. "The new Gen-6 cars are really fast with a lot of grip. Add all that up and it means we are going to go really fast."
Burton was also asked if there was anybody he steered clear of on the track, anybody who was too aggressive. He acknowledged that Tony Stewart had that reputation in the past but "there isn't a driver who I look at on race day and cringe. In the past, that hasn't always been the case."
A frequent question brought up by Contractor of the Year finalists is how he and other NASCAR drivers stay in shape for a race. Burton approaches his role like an athlete, working out at least three or four times a week. He's also careful about his diet and mixes up his physical training regime to keep himself at the peak of his physical abilities.
When asked about his mental conditioning, how he handles the emotional pressure of a big race and how he unwinds when it's over, Burton said he had learned in the last few years that you have to take a break. At the end of almost every race, he heads home to spend time with his wife and kids and doesn't even think about racing.
"In the past, I was afraid that if I took a break, that there would be somebody else who was working harder than me," he said. "I had to learn that it's OK to go fishing. You have to prioritize your time. You can't do it 24/7."
And that's good advice, whether you're pushing dirt or pushing 200 on the racetrack.