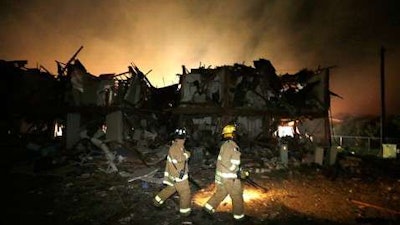 With the Boston bombing still weighing on everyone's mind and heart, word of another explosion at a fertilizer plant in Waco, Texas, almost seemed unreal.
There's still a lot we don't know about the explosion — whether it was an accident or attack — but the devastation is clear. I've lived in Texas and visited Waco, so this event definitely hit home for me.
Knowing fertilizer had been used in bombs in the past (ex. the New York Square bomb planted in a car that was found before exploding), I wondered if this was a deadly accident and decided to read more about it.
Fertilizer and its components can be used in a bomb, so you may think an explosion around it would be like starting a fire at a gasoline plant. However, fertilizer isn't as explosive as you might think. Ammonium nitrate is the fertilizer compound that can be used in explosives, says John Goodpaster, who researches explosives at Indiana at University-Purdue University Indianapolis. Plus, this compound is not found in its pure form in common commercial fertilizers. Even in its pure form, ammonium nitrate by itself is not explosive. It's actually the gas from the decomposing fertilizer that drives an explosion.
But to find out what really caused the fire and explosion, all we can do is wait and pray. More than 100 people are injured, and the death toll is expected to rise. An entire community has been destroyed, and the search and rescue crews continue to look for survivors.
To read more about this explosion and stay updated on new findings, click here.