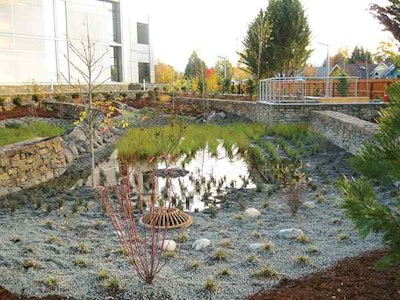 Unifying contrasting elements from a contemporary structure and its scenic surroundings, landscapers created a sustainable property in Grants Pass, Oregon.
Less than a mile from the Rogue River, this commercial project blended nature with the LEED-certified Women's Health Center. The landscape architect, Terra.fluxus (terrafluxus.com), and landscape contractor, Natural Systems Landscape, used dry stack rock weirs and native boulders to create a visual transition from the natural river environment to the building.
They also created storm swales to drain the site's runoff and guide the water into the rain garden – where water can then be cleansed and reintroduced as ground water. The automatic irrigation system was tied into a satellite weather station that adjusts the irrigation application depending on weather conditions.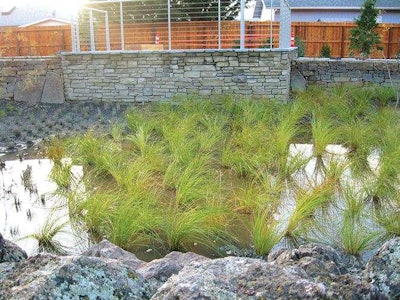 Completing this "green" space, they installed an extensive amount of native plant materials including dogwoods, vine maples, alder, mountain laurel and rhododendrons. The streambeds and rain garden are surrounded heavily with Juncus and Carex grasses – both to naturally filter the water and create a wetland appearance.
Project: Commercial property, Grants Pass, Oregon
Landscaping: Natural Systems Landscape, Medford, Oregon
naturalsystemslandscape.com
To have your project featured, email high-resolution photos, a description of the project & the name of your business to lheartsill.rrpub@gmail.com.