Those that serve or served in the armed forces are getting a little extra attention from New Holland lately, and I am blown away by the generosity.
New Holland, the official agricultural equipment of NASCAR, has partnered with the group for "NASCAR: An American Salute".
"What we're trying to do is recognize the servicemen and women who have served any time in history," says Dan Valen, Pro Work Tools marketing segment leader, New Holland.
New Holland is asking individuals to visits its site, True Blue Salute, to write a "thank you" letter to a member of the Armed Forces. For each "thank you" letter, New Holland will donate $1, up to $10,000, for the Fisher House Foundation.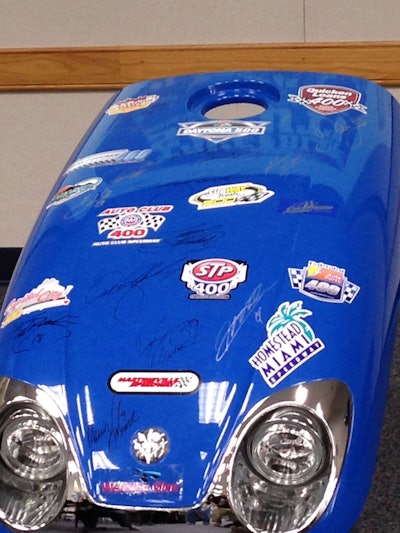 "Fisher House is a charity that builds housing near VA hospitals for families that have had a loved one injured overseas in the course of one of the wars," Valen says. "They can live free of charge so that the families can really focus on taking care of their loved one."
First of all, I had not really explored into the Fisher House Foundation, and after hearing from the president and learning about it, I have never been so touched by a program.
I learned The Fisher House Foundation does not spend a dollar in advertising and uses the word of mouth as its source of means. It's truly dedicated to helping those that served.
Additionally, New Holland will be auctioning off a New Holland compact tractor hoods with 16 drivers' signatures, including Dale Earnhardt Jr., Jimmie Johnson, Matt Kenseth and Jeff Gordon. The hood is being auctioned off at NASCAR's site and will close on July 6.
Also ending on July 6, New Holland is offering active and retired military personnel and their families $750 off the purchase of a New Holland Boomer 30 to 50 compact tractor models, Rustler utility vehicles and selected New Holland utility tractors and New Holland light construction equipment. New Holland will donate $100 to the Fisher House Foundation for each tractor and utility vehicles sold in the United States.