Have you ever been driving down the highway, mile after mile, and thought to yourself, "Wow, that is a lot of grass to mow."
Interestingly enough, mowing and beautifying highways was not always a concern in America.
It actually took one president's persistent wife to bring more awareness to the overgrown landscape.
Lady Bird Johnson, wife of President Lyndon B. Johnson, followed her husband on every campaign across America. It was on the road that Lady Bird informed her husband how much she hated seeing the junkyards along the sides of highways.
After bringing his wife's concerns before public, Lyndon was met with unending applause, which lead to the phrase "If it's beautifying they want, it's beautifying they'll get."
According to the U.S. Department of Transportation Federal Highway Administration, "In a lengthy interview in U.S. News and World Report for its issue of February 22, 1965, Mrs. Johnson discussed the wide range of ways to beautify America. As for the junkyards that prompted her husband's initiative, she said:
One of the things that's most frequently mentioned-and certainly seems to be the quickest answer-is to shield them with trees and shrubs.
Another thing is the "Prolerizing" plans that squash those old cars flat as a pancake. But there are only four of those plants in the whole nation, and there are about 5 million automobiles being junked each year now.
Still another suggestion is a sort of "burial tax" that you would pay when you bought a new car. If would be used to dispose of an old car.
But the screening and planting seems to be the quickest answer-that and the enforcement of existing zoning regulations.
However, after Lyndon became president, his wife had the resources and the ability to follow the campaign she had once seen passing by in a car window.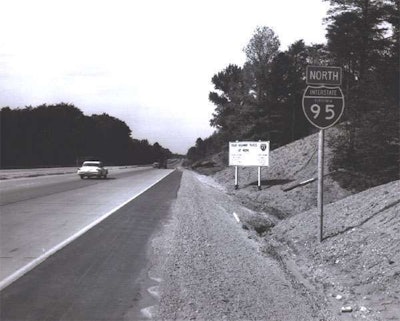 She initiated the "Landscape-Landmark Tour" into Virginia in 1965 to help promote the America the Beautiful campaign.
The tour began at the White House where Lady Bird met with the wife of Secretary Connor and all the wives of the members of the President's Cabinet. The tour followed I-95 along different landmarks to truly see America. The group planted trees, saw exhibits, commemorated plaques and showed a green-first initiative on highways.
As part of the beautification project, Lyndon initiated the Highway Beautification Act of 1965, which has been amended several times to address outdoor advertising. The goal was the control the amount of billboards along highways.
So, the next time you're traveling down the road, take a second look at the landscaping on the side of the highway.