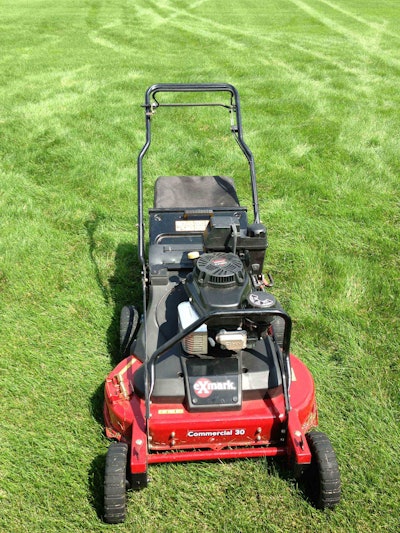 My mower is not the greatest, but I guess you get what you pay for. It has a self-propelled system, but most of the time, I feel like I'm pushing more than it's pulling.
So when I visited Exmark's headquarters in Beatrice, Nebraska, this week and operated their Commercial 30 mower, I grabbed the handles at full speed like I would mine at home.
Boy, was that a mistake.
The Commercial 30's deck reared up, and I probably looked ridiculous. I guess that's why it's called "commercial" and not a consumer one, like I have. It definitely had power, and the mower left a clean cut.
If I were eligible to win the Exmark Commercial 30 mower as part of our Editor's Picks Giveaway, I'd enter and tell that story about how my mower doesn't come close to comparing to a professional one. Not to mention, I spend more time trying to figure out what's wrong with it than using it.
What's your reason for wanting to win this Exmark mower? Enter our contest by Aug. 14 and tell us! We will pick one lucky landscaper to take home the Commercial 30 (and remind them not to crank it up all of the way).
View the mower in action here.
[youtube Kk8pGo2M5uw nolink]