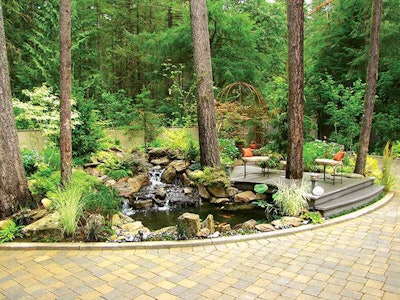 Washington driveway project turns into an entire yard renovation.
Within the walls of this Washington home, clients enjoy a private garden oasis in their front yard. Their original contract with Woody's Custom Landscaping only included the driveway, which the landscaper and his team members created by laying Mutual Materials' Summit-colored cobble pavers in a herringbone pattern.
It wasn't long before the clients also asked them to install a Koi pond, plantings, irrigation system, gravel pathways, steps, low-voltage lighting, cultured stone work in the back and a backyard paver patio.
The team installed mostly colorful plants, including shrubs, grasses and indigenous plantings that worked well under a canopy of trees. One section has a gravel pathway running through it with both sides covered in ferns, hydrangeas, hostas and flowering shade plants.
And the clients weren't the only ones impressed by the work. This residential project won a grand award from the Washington Association of Landscape Professionals.
"Our clients spend a lot of time in their garden, and it shows," says James "Woody" Woodhead, president of Woody's Custom Landscaping. "It truly is a woodland oasis."
To have your project featured, email high-resolution photos, a description of the project & the name of your business to lheartsill.rrpub@gmail.com.
Project:
Private residence
Yacolt, Washington
Landscaping:
Woody's Custom Landscaping, Battle Ground, Washington
woodyscustomlandscaping.com