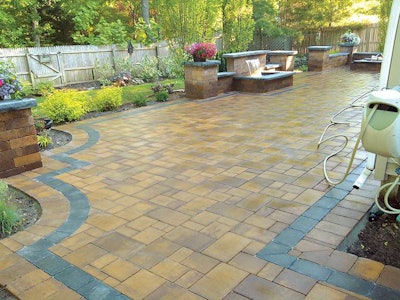 After Hurricane Sandy left a devastating mark on much of the East Coast, many landscapes were in need of renovation.
To construct a usable and welcoming outdoor living space, Barry Bros. and Landscape Design repaired the damage at this residential site and created an entertaining patio and water feature.
They installed Cambridge Pavingstones' Olde English walls, bluestone treads and a waterfall kit – which they modified from the original plan to form a different design.
After walking down a sizable walkway, there is a double border and six piers for added interest.
At the heart of the project is a firepit surrounded by a wall that seats at least seven.
The clients and their guests can enjoy the cozy sitting area while also listening to the soothing water flow in the background. But it's the plants that really complete this relaxing area.
"The landscaping is what ties it all together, with four European hornbeams and a red crape myrtle as focal points," says Brian Barry, Barry Bros. Landscape Design.