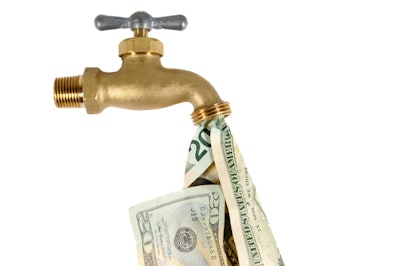 After reading all of our Landscaper of the Year applications, there was one hurdle most everyone mentioned having to overcome: keeping a steady cash flow.
In the green industry, cash flow can be one of the hardest things to manage — but it is also the key to a successful business. Here are three tips on how to best handle your business's finances.
Predict the future. By looking at your clients' previous payment schedule and knowing when to expect them to pay their latest bill, you can start to know when money will be coming in. Go back as far as you can to get a better read on when to expect payment. Also, look at when you are spending money — whether on equipment or employee wages. Make sure your expenses pick up after you expect your customers' money.

"As difficult as it is for a business owner to prepare projections, it's one of the most important things one can do," says accountant Steve Mayer to Entrepreneur magazine. "Projections rank next to business plans and mission statements among things a business must do to plan for the future."

Keep getting better. Once you know when to expect payments, that doesn't mean you can't still try to improve on it. Finding ways to encourage clients to pay on time, if not early, can help your cash flow immensely. You can offer discounts to get clients to pay their bills ASAP. For larger projects, have the customer give you a down payment and installments throughout the project, instead of one large check at the completion.
Have a safety net. Even if you try to predict when money will come in and encourage clients to pay early, there are bound to be times when you are running low on cash. Instead of waiting until you're in need, go ahead and set up a credit line now. It's hard to get money when you really need it, so plan ahead and have a line in place to serve as your safety net if needed. If you do get in this situation, use what money you have to pay crucial bills (employees) first, and then see if you can get extensions on other payments, such as equipment.
Whether you turn to computer software to track payments or ask clients to pay their bills as soon as you give them their statement, it's important to get a firm grasp on your business's cash flow. It's the livelihood of your company, and a lot of people depend on it. So, make it a priority and not an after thought when funds are running low.