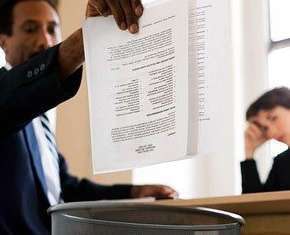 Finding good employees is a vital part of your business's success, so wouldn't you like to be able to spot good and bad future employees right away?
Here are a few things you should watch out for if you see them on a potential employee's resume, according to Under30Media.
1. Too many jobs: You need an employee who will stick around, even when the work gets hard. The green industry is no place for someone who can't commit, and if someone has jumped around from job to job, it may show they don't know how to.
2. Doesn't quite add up: When you're interviewing a potential employee, one of your jobs is to get to know them. So if you're asking them questions and notice something they say doesn't match what they put on their resume, go ahead and end the meeting right then. You don't need to surround yourself with people who you can't trust.
3. Mistakes: Maybe it's because I'm an editor, but I hate when I read someone's resume and it has grammatical, or even worse, spelling errors in it. I know not everyone is an editor, but including spelling errors in a resume shows they didn't spend much time with it. You want someone who takes the job seriously.
4. References: Not only should you ask for references from your potential employee, but it's your responsibility to check them out. I've seen a lot of cases where people put down random people on their resumes, just to say they filled it out. This is your one chance to get a true idea about this person, so take advantage of it.
BONUS: Something Under30Media said was a red flag on resumes, which I found very interesting, was a person's email address. This might not be something you need to look at, but, just as something to think about, the site's experts say they think twice about hiring someone with a @hotmail.com or @aol.com address. Why, you ask? They say this shows a candidate might be unwilling to change and evolve.