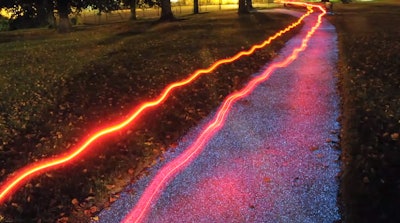 I like glow-in-the-dark things as much as the next person, but I'm not sure about the new technology recently released.
Pro-Teq, a British company, has created Starpath, glow-in-the-dark park paths that double as energy-efficient pavement.
The spray coating of light-absorbing particles harvest the sun's rays during the day and light up at night.
With the ability to be applied to cement, wood, tarmac or other solid features, the coating is non-reflective, anti-slip and waterproof.
The idea seems a bit bazaar, and it makes me wonder if the light can still create a safe environment at night.
One park was forced to shut off park lights at night to save money, and Pro-Teq stepped in with its new technology.
However, one representative from the company says use the paths in conjunction with the streetlights to create a safer environment.
This seems like the ideal option when creating an outdoor setting – the more light the better (and safer).
Landscapers should look into this technology to see how it could be incorporated into backyards, local parks or any project that involves outdoor paths.