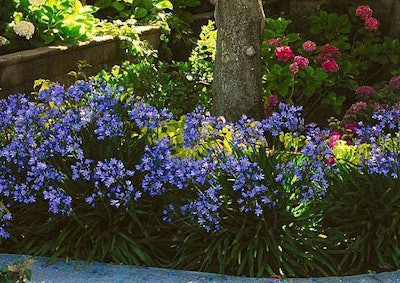 Whether you're looking to complete a pathway or just add flowering foliage around trees, you'll need plants that can handle some foot traffic. So, turn to groundcovers and "walkable."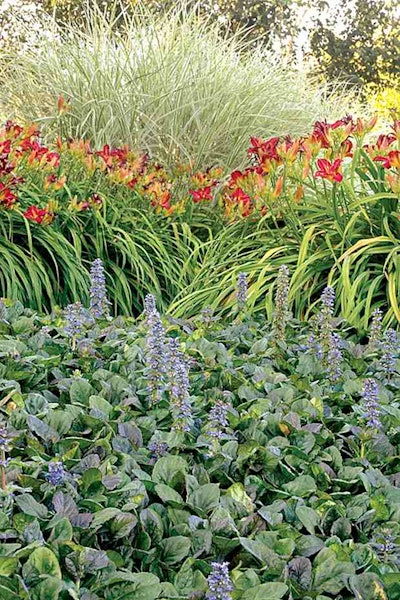 You already know groundcovers are problem-solvers. They retain moisture and control erosion. They provide habitat for pollinators such as bees and butterflies. And they're tough as nails.
Groundcovers work when you need to cover lots of square footage, such as in a corporate landscape where large naturalized areas are becoming increasingly common. In addition, in some parts of the country, such as in California, municipalities are offering homeowners incentives to replace turf with native plantings and drought-tolerant groundcovers.
To see a list of groundcovers with photos, descriptions, and hardy zones, click here.
Walkables generally are defined as creeping plants that don't exceed 12 inches in height. As you might have guessed from the name, these are plants that can stand up to being walked on. This can include varieties of low-to-the-ground herbs, mints, evergreens, ivy, moss, and more.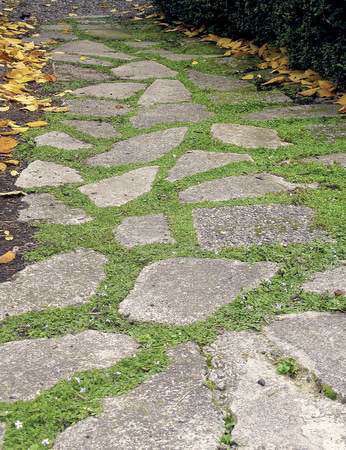 Here are examples of walkables:
• For areas with moderate to heavy foot traffic: Corsican sandwort has moss-like foliage with white flowers in spring. Does well in damp, dry or shaded settings. Celestial spice pratia has tiny green leaves covered by deep blue flowers all summer.
• For fragrance: Corsican mint, the smallest of the mint family. It delivers a pleasant crème-de-menthe fragrance when crushed. It also does well in shade. Creeping thyme is a fast-growing groundcover that gives off a spicy scent. Most thyme varieties are drought-tolerant and can survive moderate traffic. Their flowers are attractive to butterflies.
• As a lawn substitute: Alpine moss ear grows into a dense carpet with white flowers in summer. It thrives in dry climates. Blue star creeper is a dark green perennial producing soft blue flowers through summer. Turkey tangle fogfruit has gray leaves with white to lavender blooms from spring to fall, and is deer-resistant. Creeping mazus, with its low mat of green leaves studded by small lavender flowers, tolerates hot, humid summers.