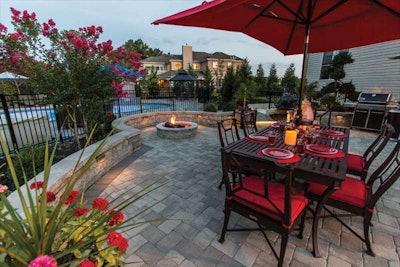 Many homeowners are unable to envision or afford all of the elements needed to create the perfect outdoor living space; they rely on professionals to point them in the right direction.
For you to set yourself apart and earn the trust of the client, it's best to show homeowners all of the ways to accomplish their goals. Providing them with options that align with their end goals and budgets will set you apart and create a lasting relationship.
EP Henry, a manufacturer of hardscaping products, recommends creating a master plan with each homeowner before diving into the surface details of each project. Here are a few tips to help you get started:
Meet with the homeowner and discuss his or her style, budget and ideas. The old adage – you never get a second chance to make a first impression – rings especially true when someone is looking to you to make their dream project a reality.
Listen to the homeowner – This seems obvious, but oftentimes we're thinking ahead and not paying attention to what the homeowner is really saying.
Ask specific questions about what he/she likes and dislikes. Even the smallest details can make a big difference. Is the homeowner wearing a lot of blue? Ask him/her if he/she has an affinity for that color. It helps you to create the plan and makes homeowners feel you understand them.
Pay attention to the current layout of the house and outdoor area. Sure, things will change, but make sure even the first step of the plan is in line with their style and layout.
Establish an end goal. If a homeowner wants to complete – and can afford – the project at once, by all means create the end goal with an immediate date. However, more often than not, cost will be a major concern for the homeowner.
Stress that not everything needs to be done at once; rather it can be completed in phases during any number of years. This helps you detail the year-by-year steps based on budget and helps the homeowner understand that they don't have to sacrifice their dream.
Explain that having an end goal will help save customers money. You are creating the current project while keeping the next phase and overall budget in mind.
Clearly map out each phase and estimate a timeline according to the budget.
Be sure to encompass all elements from hardscaping (walks, patio, pool, driveway, outdoor kitchen, etc.) to landscaping, fencing and lighting.
Be clear, concise and avoid jargon whenever possible. Homeowners will appreciate being able to review and understand it on their own.
Don't forget to take advantage of the power of financing. It's something that is less frequently offered in the hardscape/landscape industry, but very commonly used by homeowners for almost all major purchases around their home. If you decide not to offer financing, remember your customer could seal the deal with a competitor who does.
Following these simple steps will help solidify relationships between you and the homeowners and ensure long-term projects are efficiently completed. Creating and agreeing on a structured master plan will also minimize frustration for both parties.
Phasing out a project also helps creates a customer base, and if there is a good relationship and a job well done, homeowners are more likely to recommend you to their friends and family.