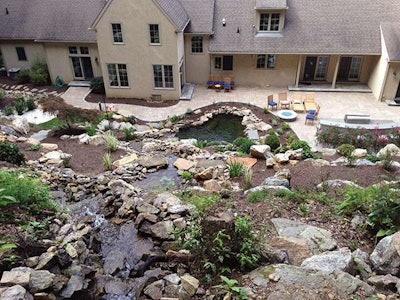 Landscapers break away from a structured design and create a luscious retreat.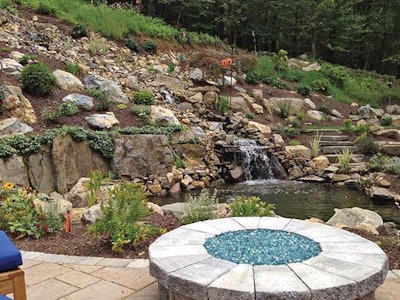 In the past two years, Ridge Crest Landscaping & Lawn Care has worked with more clients who live in metropolitan areas and spend weekends in a country home, like this one in Center Valley, Pennsylvania.
Once a simple patio with an overgrown pond, the backyard had a steep hillside with an about 60-percent slope. To create a lush mountain getaway, the landscaper designed a natural spring spilling down into a pond filled with trout. Another feature included a chipping green, sand trap and three greens that are blended into the landscape. To connect all of these elements, the landscaper used natural stone stairs and woodland pathways.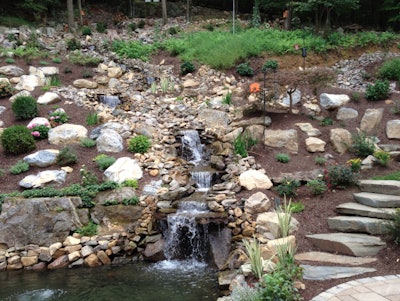 But this was no normal design or install.
"One of the most interesting parts of the job was the request by the client to have the job follow a concept idea rather than a scaled landscape design," says Christopher Baumer, owner of Ridge Crest Landscaping.
At first, Baumer and his operations office were concerned about the issues this could cause within the contract. "But we agreed this could also be the best job we have ever done."
With a naturalistic waterfall, several seating areas and the seamless transition between all of the features, it looks like they did just that.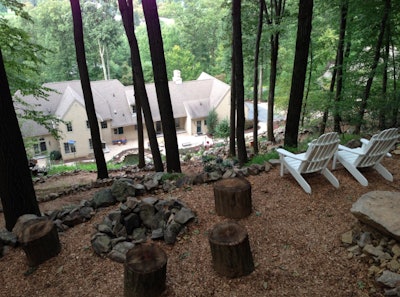 Project: Residential, Center Valley, Pennsylvania
Landscaping: Ridge Crest Landscaping & Lawn Care, Hellertown, Pennsylvania
ridgecrestdesign.com