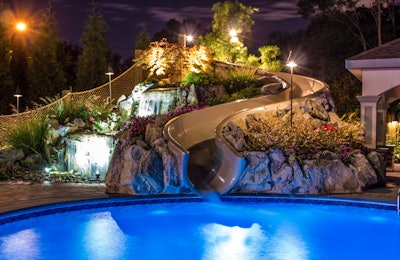 New York landscaper makes a splash with refreshing water oasis.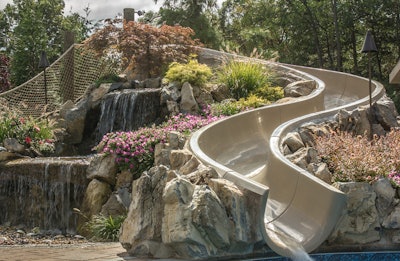 Working in a constrained area, Jeffrey Ingrassia – owner of AquaFX – and his crew constructed an aquatic retreat for these New York homeowners.
The client was looking for a long, serpentine slide, so the team installed one that spanned 40 linear feet and stood 10-feet high – perfect for taking children and adults alike on a fast water ride.
An extensive amount of plumbing had to be rerouted for the 3-inch plumbing line to feed about 15,000 gallons per hour (gph) of water. But this luscious area didn't come without a few hurdles.
"We knew we would face many challenges, and that was because it would be taller than the cabana roof and had limited space to maneuver massive boulders," Ingrassia says.
To overcome the issues, the team installed a series of casted rock panels toward the top that were textured and stained to compliment the real boulders.
They also convinced the clients to replace an existing waterfall, which was much smaller than the slide, with one that better tied into the overall scenery.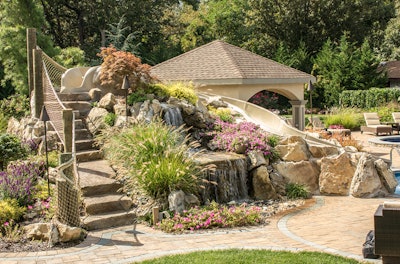 Repositioning the massive boulders, they constructed a naturalistic waterfall that ran independently from the pool filtration, recirculating 10,000 gph.
To complement the water feature, they added customized, textured concrete steps, which provided traction for climbing.
Another safety measure included installing marine lumber and custom netting to keep riders safe while heading up the slide.
They also illuminated this project with LED lighting and Tiki torches, allowing for entertainment well into the night.
Other tradesmen who worked on the project include Gibbons Pools, C&C Sprinkler, RicoRock and Dolphin WaterSlides.
To have your project featured, email me at lheartsill.rrpub@gmail.com.
Project: Residential, Dix Hills, New York
Landscaping: AquaFX, Mt. Sinai, New York