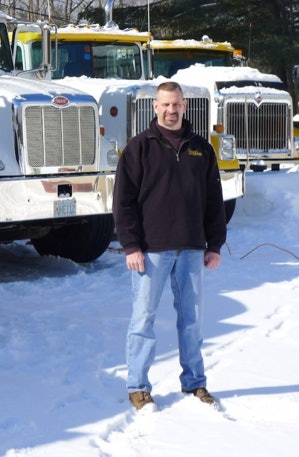 The ballots are in, and the winner is… Jeremy Hiltz.
Jeremy Hiltz Excavating was named Equipment World's (TLC's sister publication) 2014 Contractor of the Year Saturday night in Las Vegas. Hiltz Excavating in Ashland, New Hampshire, is an $8 to $10 million company that incorporated in 1996. They specialize in commercial site work, municipal and utility work and road building.
The winner and 12 finalists are selected by the editors of Equipment World in a competition sponsored by Caterpillar. They are flown to Las Vegas for an awards banquet and a trip to the Las Vegas Motor Speedway to watch that weekend's NASCAR race.
Hiltz says he learned how to run equipment working alongside his dad. But the most important lesson he learned from his dad was to be humble.
"Being humble means not living outside your means, putting your money back into the company. My dad used to tell me when he'd see other contractors with big boats or expensive sports cars, 'Son, that's all fine and well, but if you have a good year, put it back into the company, because next year you may not have such a good year. Instead of buying a sports car, buy a compactor. Or give the guys a bonus for working hard.'"
I had the opportunity to visit with two of Equipment World's other finalists, and I can tell you the race for Contractor of the Year was a tight one. To hear tips for success from the contractors I talked with, watch "3 Tips for Landscapers Starting Out" and "How To Thrive During Economic Downturn."
To read more about Hiltz, check out this article on Equipment World's site.