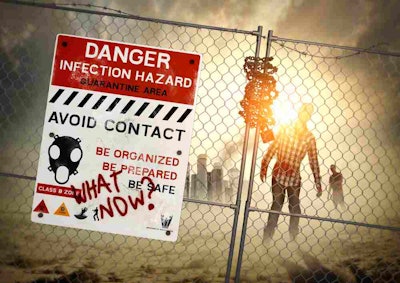 Whether you believe in zombies or not, it can never hurt to learn a little bit more about the landscapes you work in every day.
Zombies, without question, have been a popular topic lately.
Between the hit television show, "The Walking Dead" and online games like "Plants vs. Zombies," zombies are taking over whether they're real or not.
To play on the idea of zombies, The Grounds Guys provided a few tips on how to survive a zombie apocalypse using plants and other natural foliage to avoid turning into a zombie.
Most of the plants referenced are from anywhere in North America.
Eat bark for food
Tree bark might be bitter tasting, depending on the species and growing conditions, but the underneath part of the bark, known as the cambium layer, is made up of calcium, vitamins and minerals. The trees with the best cambium layer include most pine, slippery elm, black birch, yellow birch, red spruce, black spruce, balsam fir and tamarack trees.
Cattails make good medicine
Yarrow, mullein and cattail plants have multiple medicinal purposes. Yarrow leaves can be applied to bleeding wounds to stimulate clotting, and drinking a tea from its flowers can be a remedy for flus, colds, headaches, diarrhea and stomach ulcers. Tea made from mullein leaves can be used to treat coughs, sore throats and bronchitis, and a few drops of oil from the plant's flowers can be used to relieve pain from earaches. The gel found between cattail leaves makes a good topical anesthetic.
Know plants and the utilities they provide
Dried mullein leaves and cattail fluff are also great kindling for starting fires. The long leaves of the cattail plant can be woven to make shelters, mats and baskets. The large, soft hairy leaves of the mullein plant are a good substitute for toilet paper.