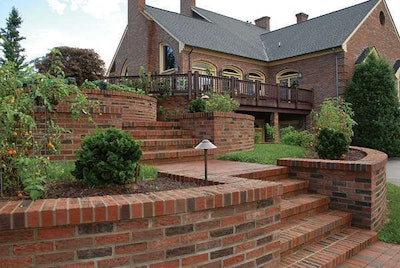 Landscaper seamlessly blends a garden with hardscape elements.
Originally, the design for this space only included creating an area where the clients could grow their vegetables each year. But, this garden space eventually developed into a relaxing backyard room that won Haywood Landscapes an HNA Hardscape Project Award Winner (hardscapena.com).
"The project began with developing a plan to satisfy the owner's desire for gardening, great views, sun and wind orientation, existing grades and then it blossomed from there," says John Fields, owner of Haywood Landscapes.
The layout takes advantage of the sun exposure, while creating an area for gardening and entertainment that complements the architectural style of the 26-year old home, Fields continues. Although not part of the original plan, the crew demolished the original patio and retaining wall and then rebuilt ones that blended in with the space.
Haywood Landscapes primarily used Pine Hall Brick hardscape materials throughout the 2,600-square-foot project. The clients can now access their multi-level gardening area from below or above the terrace. They also installed a mix of ornamentals to provide year-round color and night backlighting.
Project: Private residence, Clyde, North Carolina
Landscaping: Haywood Landscapes, Inc., Waynesville, North Carolina
haywoodlandscapes.com
To have your project featured in Total Landscape Care and on the website, send photos, a description and the project's location to lheartsill.rrpub@gmail.com.