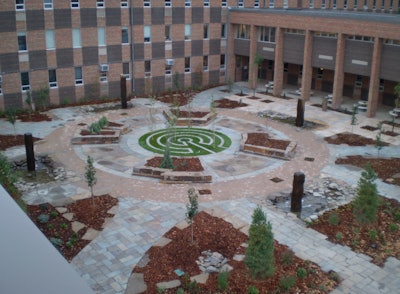 Despite hurdles, this landscape team created a relaxing space for a university.
To create a serene space for students, faculty, patients and alumni to enjoy, Mom's Landscaping & Design installed a 7,400-square-foot project at the Northwestern Health Sciences University.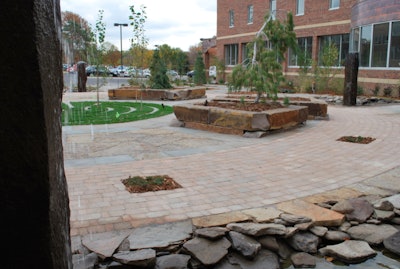 The campus added on a wing to an existing building, which created this open space.
One challenge for this project, which mainly used Belgard materials, came from classes being in session during its construction.
So, the equipment access was through the existing parking lot and space shared with other building contractors.
"The initial layout was critical on this job because of the extensive conduit sleeving required to accommodate irrigation and low-voltage lines," says Becca Bastyr, project designer.
The team also had to take into consideration the thickness of the walkway materials installed. They used six different materials with six different thicknesses when laying the base and bedding sand.
All of the pavers also had to be removable for engraving because the university gave alumni and students the opportunity to purchase them for memorializing donors.
Adding to the meditation area, they installed four basalt stone waterfalls using a 75-ton crane that lifted and placed the 1- and 3-ton rocks after installing the sidewalks.
This project won a Hardscape North American award.
Project: Commercial property, Bloomington, Minnesota
Landscaping: Mom's Landscaping & Design, Shakopee, Minnesota
Want your project featured in the magazine? Email high-resolution project photos and a description of your work to Lauren Dowdle at lheartsill.rrpub@gmail.com.
RELATED: Look at 182 Hardscape Project Photos
Check out a progression of this project below.
Take a look at another hardscape
project, which spans more than
4,000 square feet.