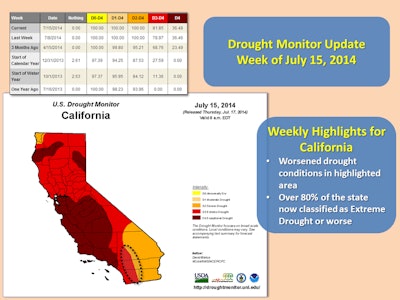 There is no doubt that California is facing one of the fiercest droughts in history.
After Gov. Jerry Brown declared a statewide emergency back in January of this year, residents and agencies have been taking shorter showers, doing larger loads of laundry, and of course, backing off on the lawn care.
However, this doesn't seem to be enough, which is why the State Water Resources Control Board approved an emergency regulation stating that local agencies could ask courts to fine water users up to $500 a day for failing to meet conservation requirements.
Those requirements include stop washing down driveways and sidewalks, watering outdoor landscapes that cause excess runoff, washing cars and using potable water in a fountain or water feature, unless the water is recirculated.
"We are facing the worst drought impact that we or our grandparents have ever seen," says State Water Board Chair Felicia Marcus. "And, more important, we have no idea when it will end."
The regulation is expected to go into affect on or about Aug. 1 and last for 270 days.
There really isn't any wonder why such strict bands are going to effect, especially when the National Weather Service recently said 80 percent of California is now facing an extreme drought or worse.
However, it's hard for residents to jump on board when one agency is telling them one thing and another agency is saying another.
One Southern California couple is facing a tough dilemma, according to The Sacramento Bee.
RELATED: How To Fight Drought
On the same day the $500 mandate was announced, the couple received a notice from the city threatening a $500 penalty for not watering their brown lawn.
The letter stated, "Despite the water conservation efforts, we wish to remind you that limited watering is still required to keep landscaping looking healthy and green."
The letter gives a 60-day notice for the couple to restore their lawn.
The local officials' argument? Coming up with different ways to have a green lawn other than having a "real lawn," including artificial turf, xeriscaping, drought-resistant landscaping and the like.
Another California resident received a similar violation and spent more than $600 to make the changes.
So, California may be running out of water and farmers may lose their income, but at least everyone's grass will be green, right?
Gov. Jerry Brown heard the concerns and addressed them quickly by signing Assembly Bill No. 2100.
The Davis-Stirling Common Interest Development Act restricts associations from "imposing a fine or assessment against a member of a separate interest for reducing or eliminating watering of vegetation or lawns during any period for which the Governor has declared a state of emergency, or a local government has declared a local emergency, due to drought."
Glad to see the State of California is coming to its senses.