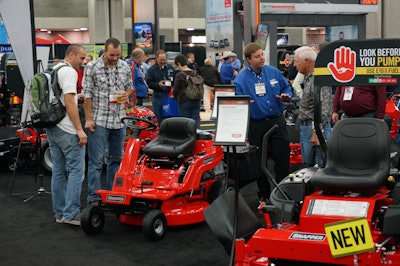 The landscaping industry has faced tough economic times just like many other industries.
However, it's always said, when clients are looking at budgets, landscaping is one of the first things to go.
Since the recession hit in 2008, it has been an uphill battle for many landscaping companies – no matter the size, but in the past two years, the industry has seen quite the turnaround.
After visiting Landscaper of the Year finalists for the past few years, many of them are saying business is starting to pick back up after years of trying to diversify the company to be more appealing in the marketplace.
Another key sign of a rebounding industry is the growth of GIE+EXPO in Louisville, Kentucky every year.
Whereas many tradeshows across the country are experiencing a downturn in attendance and failing numbers, GIE+EXPO is seeing a huge amount of growth.
In 2013, GIE+EXPO experienced a 12 percent increase in attendance, a 6 percent increase in dealers, 16 percent in landscapers and 5 percent in exhibitors.
RELATED: Industry's Making a Comeback
For 2014, GIE+EXPO experienced an 11 percent increase in registration over the previous year with more than 19,000 people attending from around the world.
Hardscape North America (HNA), co-located with GIE+EXPO, also had a record attendance with a 22 percent increase over 2013.
At the show, organizers announced that the show will be expanding into the North Hall of the Kentucky Exposition Center because of the increased growth.
Other show highlights included:
Participation in basic tech training sessions was up 213 percent this year while registration in the advanced training increased 14 percent.
Registrations for all paid dealer education were up 35 percent.
Contractor registrations were up 7 percent and attendance in the GIE+EXPO Workshops for industry professionals climbed 56 percent over last year. New sessions related to snow and ice management were sold out with a total of 276 participants.
There were 675 indoor exhibits, which represents a 6 percent increase over 2013 and 13 percent over 2012.
With 181 new exhibitors, it was the largest show since the Green Industry Expo and the International Lawn, Garden and Power Equipment Expo merged in 2007.
Looking to next year, the 2015 show in Louisville will be Oct. 21 for dealers, distributors, retailers and media and Oct. 22-23 for everyone. The demo area will be open Thursday and Friday, Oct. 22 and 23.