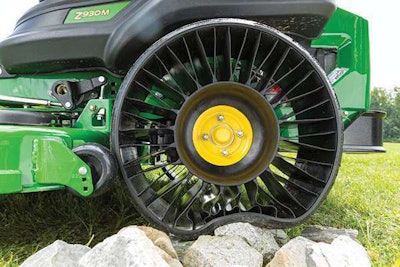 At this year's Green Industry and Equipment Expo, Michelin announced a partnership with John Deere to equip its ZTrak 900 Series line-up of zero-turn commercial mowers with Michelin's X Tweel Turf.
The Tweel is basically an airless (non-pneumatic for you science types) tire.
Using automotive rubber technology, Michelin says the tread lasts up to three times longer than standard turf tires. Operators will experience greater performance than with a pneumatic tire, increased uptime, enhanced hillside stability, reduced operator fatigue, and improved productivity resulting in a lower cost of ownership.
The Tweel is somewhat of an engineering/physics feat. Instead of a standard wheel, poly-resin spokes to carry the load and absorb impacts while providing reduced machine bounce.
Sure, this is a lawnmover that weighs only several hundred pounds and has a top speed under 15 miles an hour, but it's only a matter of time before they figure this out for heavier applications like cars and trucks.
The Tweel has been available for a while. You can get them for skid steers and other light construction equipment. Not exactly high-speed stuff but in terms of weight, they are supporting a substantial load. What's important to note about Michelin's John Deere partnership is that the tire is now an OE replacement a standard 24x12x12 tire. That gives the idea of a non-pneumatic tire more teeth.
Polaris' TerrainArmor Non-Pneumatic Tire (NPT) has been nominated for Tire Technology of the Year by Tire Technology International.
About a year ago, Bridgestone said it had improved its non-pneumatic tires by offering a larger diameter, improved load-bearing capabilities, safely getting them to speeds of up to almost 40 mph. That's still a far cry from being able to slap a set on your pickup, but its a step ahead of a lawnmower.
This is a technology that will continue to refine itself and, eventually, find a place in niches above lawn mowers and construction sites. We're probably several years from it, if not more.
What do you think? Leave your thoughts in the comments below.
Jason Cannon serves as the Online Managing Editor for sister site Hard Working Trucks