Ford's F-Series pickup is the best selling vehicle in the U.S., but it also holds a unique distinction generally reserved by the likes of Lexus, Land Rover or Mercedes – the best selling vehicle over $50,000.
Recent analysis released by TrueCar.com shows the F-Series outpaces the second place Ram pickup by nearly 114,000 units in sales over $50,000. Pickups took four spots in the Top 10.
Ford is expected to book sales of nearly 190,000 units above a $50,000 sticker price this year, according to TrueCar.
A sticker price of $50,000 isn't generally considered a luxury vehicle, but by most counts it certainly qualifies as as premium (but if you've ever climbed in a F-150 Platinum or Silverado High Country, it certainly feels luxurious). That means Detroit's Big 3 each have some of the 10 best selling premium vehicles in the U.S. – and they're trucks. Six of the entries in the Top 10 are stamped in Detroit.
Staggering is that slightly more than 25 percent of all of Ford's F-Series pickups are premium pickups, and the TrueCar data doesn't include the F-650/750 – the highest sticker price base models offered.
That's a lot of King's Ranch and Platinum F-150s, and a pile of SuperDutys.
That just goes to show how valuable a versatile truck can be. A powerful and reliable truck is an important tool for work, but owners also want to make a splash out on the town. You don't have to get a base-model Silverado, F-150, Ram or whatever else and then opt to buy a nice car to make an impression.
You can step up to a premium level pickup that's built to work hard and play hard in style. It's about time the car snobs acknowledge that a luxury vehicle that can't tow a bass boat isn't really a luxury after all.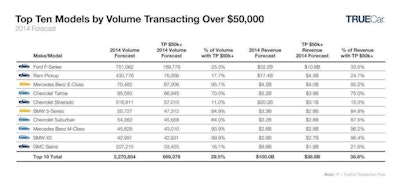 Jason Cannon serves as the Online Managing Editor for sister site Hard Working Trucks