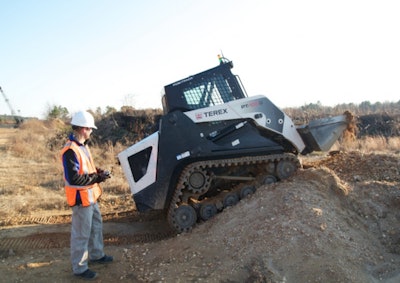 The question seems silly, but the answer could be all too real for some landscapers.
Technology is on the fast track of not only improving jobsites, but it could also be taking away jobs.
Several manufacturers are working with companies to develop wireless controllers to operate large pieces of construction equipment.
This is not necessarily a bad thing for the industry, but it could create a great deal of change. Operating construction equipment could quickly turn into the next big video game for workers.
Last year, Humanistic Robotics released the Safe Remote Control, which is quite similar to an Xbox controller. The controller connects to the HRI's Vehicle Safety Controller receiver. The operator can stand up to 1,000 feet away and still control the machine.
Additionally, the trend doesn't seem to be slowing. QinetiQ revealed its robotic system on a Bobcat excavator at World of Concrete.
"Having remote-control capabilities enables our customers to use machines in applications that aren't otherwise possible, or that become easier without utilizing an operator," says Laura Ness Owens of Bobcat Company. "Joint development of this system has been a good partnership."
Technology is always advancing, but could these controllers vastly reduce the amount of workers on a jobsite?
I guess only time will tell.