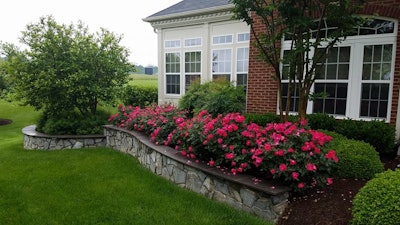 Rock Water Farm Landscapes & Hardscapes
Everyone loves Bambi until they find their favorite plants have suddenly been devoured.
In certain parts of the country, deer can be an ever-present problem and there are a number of solutions to finding deer in the backyard, one of which is opting for more deer-resistant plants.
Deer browsing is usually indicated by jagged or torn places on plants. They tend to prefer to eat plants with soft growth and tender shoots, but only plastic plants are truly safe from never being nibbled on.
"By nature, deer are foragers," says Todd Thomasson, owner of Rock Water Farm Landscapes & Hardscapes in Aldie, Virginia, where deer are quite prevalent. "They will travel many miles to find food—so that means even if you haven't seen a lot of deer on your property, food can still draw them in."
While there is no plant that is 100 percent deer resistant, you can choose options that will be less likely to be eaten.
Traits of deer-resistant plants
When looking for plants that aren't as attractive to hungry deer, there are four main characteristics that deer tend to avoid.
One trait to look for is plants with strong aromatic or herbal scents.
"Eating them would be a strong flavor that they would tend avoid," says Josh Roggenbuck, regional product manager for Walters Garden, Inc., based in Zeeland, Michigan. "When you think of evergreens, arborvitae versus junipers, the junipers have a really strong herbal aroma where the arborvitae don't, meaning they have more of a bland flavor."
Another deer-resistant characteristic is fuzzy or hairy leaves. Lamb's ear is a good example of a fuzzy plant deer tend to not care for. Plants with a milky sap are another type of vegetation deer prefer not to eat. Diamond Frost-type euphoria is an example of this. It has a milky sap that is thought to upset deer stomachs.
The final trait to look for is plants that are thorny or have prickly leaves or stems, such as hollies. But Thomasson says that deer will overcome these distastes if they are hungry enough. That is most likely to happen in the winter when food is scarce. During other seasons, when deer have an abundance of food, they may be more selective.
Good deer-resistant plant options
The suggested deer-resistant plants below are by no means a definitive list, but they are a start when it comes to solid choices of plants that are left alone by deer the majority of the time.
When it comes to perennials, Roggenbuck says lavenders, bee balms, and alliums are all good options. Some of the other perennials he lists include 'Serendipity' allium, 'Denim 'n' Lace' Russian sage, 'Lemon Meringue' Baptisia, and 'Jack of Diamonds' heartleaf brunnera.
"Brunnera is a great plant and is also a good shade option because hostas are so heavily foraged in the shade by deer," he says.
There are also a number of evergreen options that are rarely browsed including boxwoods, Siberian cypress, inkberry hollies, and junipers.
As for ornamental grasses, the vast majority are safe from deer.
"Ornamental grasses tend to be a very good category that just about everything is left alone," Roggenbuck says. "I think again because it doesn't have a very tender shoot, there's a very limited time that a grass is very tender."
Thomasson says that Mugo Pine, Mountain Laurel, Common Lilac, and Beautybush are examples in his region that they use because they're less grazed by deer.
"Also keep in mind that trees can be an attractive meal for deer, particularly if they bear fruit such as apple or crabapple species," Thomasson adds.
Roggenbuck highly recommends checking out Rutgers University's list of plants rated by deer resistance for more information.
This will help give you an idea of what plants you might consider adding to your client's landscape. However, keep in mind that plants (and their deer resistance potential) can vary by region.
Designing a deer-resistant landscape
Once you've selected your deer-resistant plant palette, it's important to install them so they are effective.
Roggenbuck advises not planting giant swaths or monocultures of plants as they are basically a smorgasbord for deer. He suggests mixing deer-resistant plants in with those that deer love, so they are hidden more.
Considering where you plant is also important, says Thomasson. If you have certain plant species that you love (but that the deer seem to love, too), plant these closer to your home where you can enjoy them and they'll be further from the deer's natural habitat. Consider more deer-resistant plantings around the perimeter of your property to keep deer away. The last thing that you want is to draw them in with their favorite meal.
Thomasson says that deer can be a major source of frustration for clients who have spent hundreds or maybe even thousands of dollars on landscaping and do not want to have them destroyed by hungry deer. They work closely with clients to create a landscape that clients love but that won't be as favored by deer.