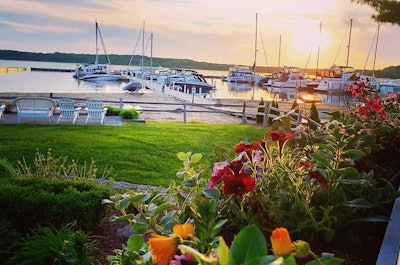 TruNorth Landscaping
Are your clients looking to brighten up a drab landscape? An easy way to add more color and texture is with seasonal flowers, or annuals. They will add color and character to any bare spot in the landscape. But if you're new to seasonal flower installations (whether it be in containers or plant beds), then you might be looking for some tips on how to best perform these services. At TruNorth Landscaping in Traverse City, Michigan, we are constantly working with flowers. We know that everything from plant groupings or color choices and even plant selection will come into play when designing the perfect landscape.
Here are some helpful tips on getting the most out of flower additions to your clients' properties.
How to make the best plant choices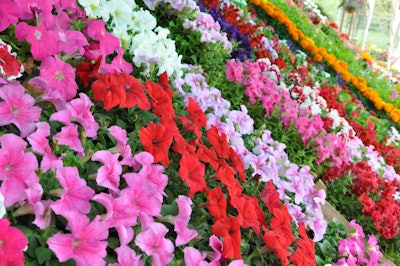 You may have heard this before pertaining to perennial or herbaceous plants, however, the same rule applies to annual plants. There are plants made for full sun, part sun, or full shade, as well as plants that are drought-tolerant, and plants that require consistent watering. So, be sure to assess the location you plan to spruce up before making your decision.
How are plants best arranged for a container garden?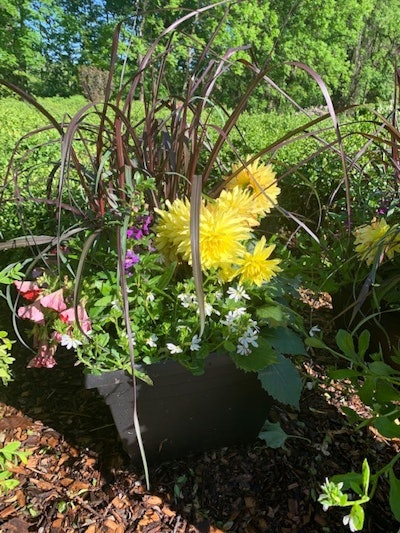 These should container what I call a thriller, filler, and spiller (see examples below). To explain this, let's paint a picture. You have a large round planter you wish to place in the corner of your paver patio. When designing your planter, start from the inside out. The thriller should be the center of the planter and tallest in height. Next, the filler, while shorter than the thriller, still should have some height along with a "bushing" effect. The filler will void the gap between the thriller and the spiller. The spiller does exactly what you're probably thinking, it spills out of your planter, draping over the edges.
Here are a few of our best thriller, filler, and spiller plant suggestions for shady areas.
Thriller: Astilbe, Foxglove, Coleus
Filler: Impatients, Hosta, Clown plant, Begonia, Browallia
Spiller: Coral Bells, Fuschia, Ivy
And here are a few of our best recommendations for a sunny area.
Thriller: Ornamental grasses, Cannas, Cleome, Hibiscus, Geraniums
Filler: Euphorbia, Dimaond Fronst, Lantana, Osteospermum
Spiller: Petunias, Calibrachoa, Sweet Potato Vine, Verbena
Making the best spacing choices for optimal appeal
When you're planting annuals in a plant bed, consider planting seasonal flowers in groupings to maximize the appeal of the flowers, rather than lining them up like soldiers along the planting bed edge. We suggest a triangle spacing in groupings, versus squared spacing. This is going to give you more character and diversity in your planting, giving the eye something different to look at as you scan over your plantings.
How to make color choices for maximizing wow factor
Don't be afraid to plant a red begonia next to a yellow wave petunia. Add a massing of contrasting and complimentary colors so they stand out with your landscape or against other seasonal flowers. Annual flowers only last one season, so you only have a few months to enjoy them and the vibrant color they add to your landscape.
The variety of seasonal flowers and colors may be overwhelming when making plant selections for your clients. Plan ahead with your color choices and resist the urge to go over the top with one of everything. Too much variety of colors may serve to confuse the eye and distract from the landscape. Feel free to mix colors and plant what you like.
How do I make my container garden look unique?
The best way to accomplish a unique look is to select plants with a variety of textures. Annual plants can have fuzzy, shiny, pointy, round, thin, or thick leaves, stems, and petals. Mix it up! Seasonal planters are meant to stand out, so let them. People in greenhouses all over the world work tirelessly developing different varieties of every seasonal flower we have to give us the range we desire. Take advantage of their hard work. The wonderful thing about seasonal planters is if you don't like it this year, you know what you don't want to do again next year! So, don't be afraid to choose plants that you find to be cute, crazy, unique, or different.
Setting clients up for success with maintenance advice
Once you've installed container gardens for clients, make sure that they know how to care for them. Advise that they keep all containers well-watered. Fertilize the plants following the fertilizer's label directions. Most containers benefit from regular fertilization. Tell them to remember to deadhead and prune the plants, too. Some plants, like geraniums and petunias, will produce more blooms faster if the old, dead blooms are removed. If the spiller plants get branches that are too long, you can prune or remove a ½ to 2/3 the total length of the stem and it will produce two to three new stems that grow more vigorously. Not all plants can be pruned, so make sure to research before you start cutting.
Editor's Note: This Guest Post was written by Heather Kortokrax