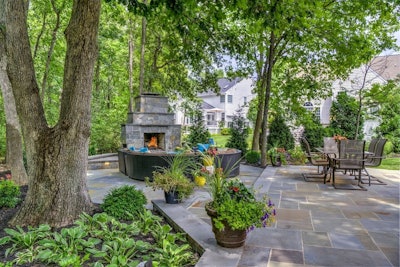 Rock Water Farm Landscapes & Hardscapes
Incorporating trees around a patio can have a lot of functional benefits. Trees can help make your space shaded, screen wind, and even create some privacy. Plus, trees are beautiful and enhance the patio from an aesthetic standpoint, too. But it's important that you are careful in your selection of trees around a patio. You want to make a selection that is going to improve your outdoor living area—not take away from it in some way.
According to Todd Thomasson, owner of Rock Water Farm Landscapes & Hardscapes in Aldie, Virginia, one thing that you have to watch out for is messy trees. It can be frustrating when fruit like berries or even just leaf or petal debris falls all over the patio. You don't want your clients to have to constantly sweep off or clean up the patio.
You also want to be careful about any trees with roots that will encroach upon the patio. Thomasson says that this all comes down to proper placement. It takes some horticultural expertise to know exactly how big that tree (and its roots) will get at maturity and where on the property it is best installed.
"Thinking about the future of the trees is all part of a thoughtful design process," Thomasson says. "It may look good now, but you also have to think about the future growth. You don't want tree branches growing over the patio space or roots lifting up your stone."
Beyond these considerations, Thomasson says it's also important to talk to clients about their wants and needs. Are they looking to create some privacy screening? Are they in need of shade? Their objectives will also help you in terms of making the best tree choices.
Choosing the best tree species near a patio
Thomasson says that he has a number of trees that he considers to be good choices for around a patio. Evergreen trees are often a wise choice because they offer some color all year round. Many evergreens can also function as a privacy screen thanks to their dense foliage.
Cryptomeria is one such choice. Thomasson says this evergreen can grow quite tall and also provide a lot of shade. It can be a welcomed addition to the patio that will otherwise receive full sun beating down. Cryptomeria is specifically known for its broad, pyramid-like shape and although its leaves appear to be prickly, it's actually soft to the touch.
The European Hornbeam is another tree that Thomasson says he often uses around patio areas. This deciduous tree can grow as tall as 40 to 60 feet so this is an example of a tree that's future growth needs to be considered during placement. Thomasson says this tree can specifically be a great choice for the patio that gets a lot of wind as it will deflect some of that away.
Of course, Thomasson says that many of his clients are also looking for something colorful and bright. There are many ornamental trees that can make an excellent specimen tree choice and become the showpiece of the landscape. But Thomasson says that expectations must always be discussed.
For instance, many homeowners in the South are very interested in the Crape Myrtle—and it's certainly a beautiful choice. It's relatively low maintenance in terms of upkeep and it will produce beautiful blooms. But it can also drop some debris. So, if homeowners want this tree situated near their patio, they must be made aware that they'll need to sweep off that debris from time-to-time. It's also important to pay attention to the direction of the wind to potentially avoid some of this concern.
At the end of the day, it boils down to making choices that are best suited to each individual property and client, Thomasson says. Trees can be a wonderful addition when selected and installed in a thoughtful way.