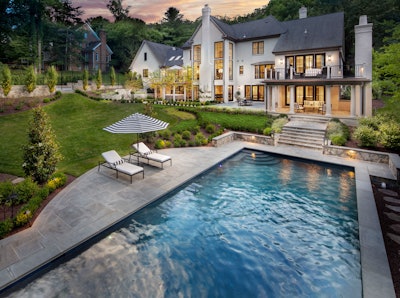 Rossen Landscape
When it comes to ensuring that your clients get the most out of their pool area, you want to be sure to make wise choices for plant material. Plants around a pool not only make the space look better aesthetically, but they can also play a valuable role in functionality by adding privacy or maybe creating some shade in a seating area.
Jeff Rossen, owner of Rossen Landscape in Great Falls, Virginia, says that landscapers must consider a number of different factors when making plant choices around a pool area. While plants may just be one part of an overall landscape design, they definitely contribute to the look and feel of the space.
Contributing to the enjoyment of the space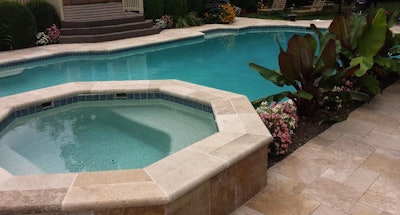 A pool area inevitably becomes a place where your clients are going to spend a lot of their time. Because of that, they may want to focus on plants that they really enjoy.
"An important consideration is choosing plants that your client likes and that helps to enhance the overall mood or feeling that they want to have while spending time at their pool," he says. "This is their backyard paradise, and you want to make the right plant choices to help contribute to that. What that means is going to differ from client to client so it's important that you really get to know them."
For some clients, that can mean a lot of color. But one consideration with flowering plants, says Rossen, is that they may attract bees to the area. That's just something to keep in mind if there are children or someone in the family who is allergic. Oftentimes there are ways to situate flowering plants into the landscape design without having them right next to lounge chairs or near where the kids will be playing.
Plants that add privacy and shade
For many clients, Rossen says it's not just the look of the plants that clients desire but also some functional benefits. For instance, plants may play a role in privacy screening. Most clients are concerned about protecting their family's privacy when spending time at the pool and may want to use certain plant choices to "screen in" their space, Rossen says.
"Plants that are tall, dense, and thick tend to make good privacy choices," he adds. "But they need to be incorporated into the landscape design in an appealing way. We're always looking at creating landscape designs that look natural, as though they've always looked that way—not forcing something."
Another functional benefit of plants around a pool is that they can create some shade. While most people want their pool in the full sun, they might have an eating area where they'd like some shade. Plants can be a way to create shade naturally.
In general, Rossen says that most of his clients prefer plants that are low maintenance. Even if they plan to hire his company for ongoing landscape maintenance, they don't typically want plants that require a tremendous amount of extra care.
Plants to avoid around a pool
As much as you want to help your clients make good selections for plants around a pool, you also want to be sure that they don't make poor choices. Certain trees simply aren't going to be the best fit for a pool area.
Messy plants definitely fit that category. Trees and shrubs that drop a lot of leaves, flowers, or twigs into the pool (or onto the pool deck) are going to become a major source of frustration. A couple trees to avoid right near the pool area include the Crape Myrtle (because it drops flowers and seed pods) and the River Birch (which drops a lot of twigs). If your client likes these trees, install them somewhere that they can be seen from the pool area but not right over it. They'll thank you later when they don't have to constantly skim the pool or sweep the deck.
As a pro, you provide peace of mind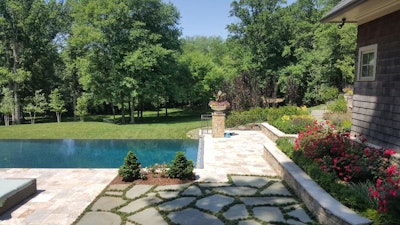 Ultimately, one of the main benefits of hiring a landscape professional is the peace of mind that smart plant choices will be made.
"Most people just want to be able to have peace of mind that the best choices are being made for their property," Rossen sums up. "That's where the professional landscaper can really show off their value. While people often have ideas about colors or maybe where they want plants installed, they tend to largely rely on the landscaper for their professional expertise. That is where