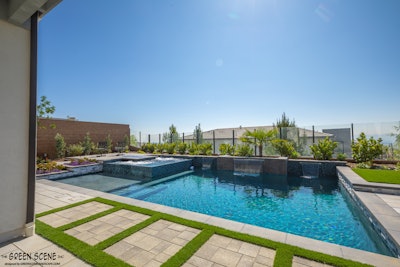 Irvin Pacheco
There was a time when freeform, curvy pools were all the rage. But pool designers say that these designs are going by the wayside as more and more clients are asking for contemporary, straight-edged layouts. Industry experts say that contemporary pools are the number one trend in pool design right now.
Scott Cohen, Garden Artisan of Green Scene Landscaping & Pools in Chatsworth, California says that he believes it has to do with the current movement toward minimalism and simplification.
"Everyone's life is busy and complex these days—so they're looking for ways to simplify," he explains. "A decade ago all we were doing was freeform pools with lots of boulders and palm trees. While we still get occasional requests like that, most people today want clean, straight lines."
Adding pool features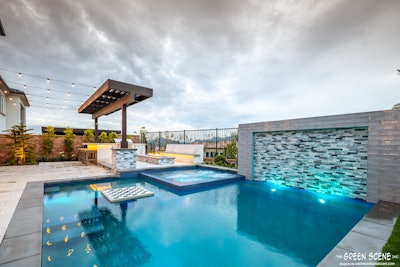 Of course, Cohen is quick to point out that straight lines does not mean it has to be a "boring pool." People may want a simple shape, but they're still interested in some of the features that help make the pool unique—and more enjoyable.
Cohen says their "Less is S'more" project is a good example.
It is often these pool add-ons that inspire clients to spend more time outside using their new pool. This might be a usable feature like a sun shelf made to fit a lounge chair. Or it could be a water feature or pool lighting, which allows the clients to enjoy the pool more even when they're not in it.
Dining al fresco is a lot more enjoyable while listening to the soothing sounds of water and looking at the visually appealing, well-lit fountains.
"Contemporary pools are by no means boring," continues Cohen. "We're getting creative with water features, textures, paver materials, and so much more. There are a lot of different ways to customize a pool—and that's what most people want."
In other words, Cohen says, just because it's a contemporary design does not mean it's cookie-cutter. There are still many ways to add originality to a rectangular shaped pool.
Cohen says that their "Flatten the Curve" project is a good example of this.
Around the pool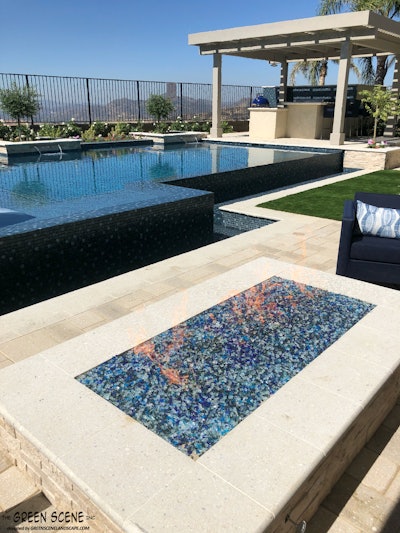 It's not just the pool itself that's important but the whole area around it, says Cohen. These days people are looking to maximize their time outside, so they want backyard amenities like outdoor kitchens, pergolas, pavilions, and more. It is these types of features that keep people outside, spending time in their outdoor living space.
The pool may be the centerpiece of the design, but most clients want more than that.
It's important that the pool design fits well into the backyard layout as a whole, adds Cohen. Everything should have its place—and purpose—to make the backyard as enjoyable as possible. For this reason, outdoor room design, patio sizing, sun and shade, wind, and focal points are all factored into a good design. Every single detail has to be taken into account. With something as important as your client's new pool, there is no detail too small, says Cohen.
Timeless beauty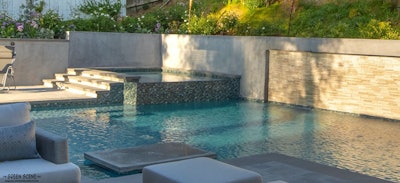 While there may be various reasons why so many clients have moved toward linear pool designs, perhaps most important of all is the fact that this design style is one that can stand the test of time.
"I think most people like that the clean lines of a contemporary pool are timeless," Cohen says. "These are pools that are never going to go out of style."