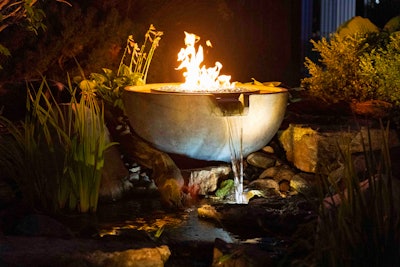 Aquascape, Inc.
Both fire and water features deliver the tremendous wow factor to landscaping projects—and now, Aquascape, Inc., has found a way to combine them. An auto-ignite flame now accompanies Aquascape fountain toppers for an impressive fire/water feature.
One such option is the Fire and Water Spillway Bowl featuring a flame center with water pouring through a spout. A more natural-looking option, the Fire and Water Stacked Slate Sphere features cascading water paired with flames from a 12-inch stainless steel burner ring.
Aquascape also offers the opportunity to add fire to its basalt columns using the Fire and Water 3-Piece Basalt Torch System. This includes three fire and water torches that can be installed into the top of any existing or new basalt column.
Werk-Brau introduces PowerGrip Bucket


The introduction of the PowerGrip Bucket from Werk-Brau enhances a machine's grading, trenching, and clamshell capabilities with precise control. The PowerGrip Buckets offers 120-degrees of jaw opening power and three times the clamping force of thumbs. It can be used for moving large rocks, scrap material, logs, demolition needs, and more.
According to the company, PowerGrip Buckets are available in various sizes and widths to fit up to 50,000-pound machines. Two different cutting edges within one bucket allow the operator to switch between ditching and digging without changing buckets.
Xantrex introduces a no-idle solution
Xantrex has introduced Freedom e-GEN, a lithium-ion battery-based power system that can be requested as an OEM install with most truck upfitters or as an aftermarket solution through Xantrex authorized detailers. According to the company, this no-idling solution benefits the environment and also reduces operating costs.
"The chief advantage of Freedom e-GEN system for the work truck market is no longer being tied to a portable generator or being required to idle your engine to power tools and equipment," said Matt Wodecki, sales director, in a company press release. "Freedom e-GEN provides virtually unlimited power to run job site tools, equipment, and hotel loads for a significant amount of time without wasting fuel."