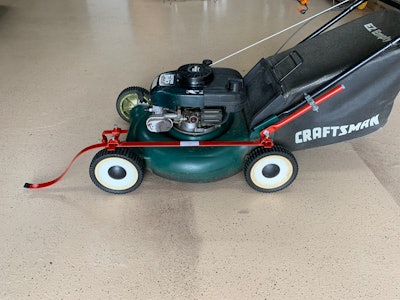 Rob Sitarz
Though a pharmacist by trade, Canadian inventor Rob Sitarz is helping landscapers to save time and aggravation with his Lawnmower Fender invention—an attachment for all types of lawnmowers. The idea is one that has been in his family for a long time as his late father created one at his mother's insistence that he stop damaging her plants.
According to Sitarz, the fender serves as a helping hand to the front of the mower by gently lifting plants up and out of the way—while the blades cut the grass beneath.
"This creation is a simple attachment for walk-behind mowers, whether they be push or FWD/RWD self-propelled models" Sitarz said. "The Lawnmower Fender is also easily adaptable to ride-on, stand-on, and zero-turn radius mowers so it is quite universal. It's analogous to a cattle guard on a train—but for plants. It has been designed to assist the operator on any type of lawnmower with the task of cutting grass close to any types of plants."
Sitarz added that the product will largely reduce or even eliminate the need for a string trimmer which obviously translates to a boost in efficiency.
In terms of production, the Lawnmower Fender can be manufactured on short notice, according to Sitarz.
You can learn more about The Lawnmower Fender at www.thelawnmowerfender.com.
Kawasaki adds two ethanol-free KTech products
Kawasaki Motors Corp., USA Engines Division has announced the launch of two ethanol-free fuel products specifically optimized for outdoor power equipment applications. The introduction of these two additions to Kawasaki's Signature Series family of products includes KTech Blend Pre-Mixed 2-Cycle Fuel + Oil and KTech Ethanol-Free 4 Cycle Fuel.
The KTech Blend Pre-Mixed 2-Cycle Fuel + Oil product is engineered to avoid the inherent issues attached to at-the-pump fuel. It provides easy starts and lower maintenance.
The new unleaded KTech Ethanol-Free 4-Cycle Fuel is formulated for long life durability of 4-cycle small engines, and 2-cycle when mixed with oil to engine manufacturer specifications. It is expected to aid in reducing costly repairs, equipment downtime, and user aggravation.
Danuser introduces new mounting system for its EP Auger


Danuser has introduced a new mounting system to make its EP Auger compatible for mini skid steers. It features a planetary gear drive with greater torque for drilling through hard-compacted surfaces.
"Models range from 6 to 35 gpm and from 1,500 to 3,500 psi, making this a very versatile tool for the construction and agricultural industries," said Glenn Danuser, company co-owner.