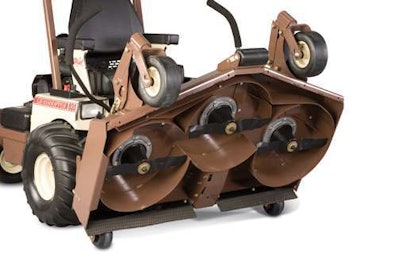 Here are four tips to enhance the life of your mower.
As the icy chill of winter starts to melt away, welcoming in the green of spring, it's time for landscapers to pull off the tarps and gas up their lawn mowers.
But before they crank up the machine and lower the blade, they should first make sure they have a preventive maintenance plan and that the mower is in proper working order.
Here are four ways landscapers can limit down time and keep their mowers cutting longer.
1. Track service intervals
Like with any machine, following a set maintenance schedule can help landscapers and their mechanics catch problems early and prevent others from happening.
"Look for a decal on the machine or refer to the operator's manual for a list of times to check and service," says Tim Rohrbach, John Deere product support specialist.
This list may include daily checks such as fluids, tire pressure and safety systems, as well as weekly checks (50 to 100 hours) of filters, lubrication of moving parts and the suspension. Annual checks could include adjusting engine parts, which should be performed by a mechanic.
If the landscaper finds a part that does need to be replaced, they should keep a log of the replacement part number and when it was added to the mower. This also gives them an idea of when it will need to be replaced again. Rohrbach suggests using dedicated software to maintain and track maintenance items.
2. Perform visual inspections
Another important way to keep their mowers in proper working order is for the landscaper to do a thorough walk-around. One landscaper who has handled his fair share of mower check-ups is Joey Cuzzort, owner of Cuzzort Lawn Care in Cedartown, Georgia. This commercial cutter has been in the business for more than 20 years, and one of his mowers, a Grasshopper Model 325 (liquid-cooled gas), has more than 12,000 hours on it.
His mower-maintenance checklist includes looking at the belts for wear or looseness, air pressure in tires, levelness of the mower deck, front-wheel bearing for wear, blade spindle for loose bearings and blades for sharpness.
"Sharpen as necessary, making sure each blade is properly balanced after sharpening to prevent vibration damage to the mower deck," Cuzzort says.
Landscapers should also look at the air filter to make sure the inside of the seal and the inside of the filter are clean, he suggests.
"Even if the outside of the air filter is dirty, as long as the inside of the filter is clean, the filter is functioning properly," Cuzzort says. "If you need to clean the outside of the air filter, tap the filter in your hand to remove dirt and debris."
3. Keep it clean
Not only does a well-maintained mower look more professional to clients, washing off grass and mud can also help landscapers spot problems.
"Keeping the machine clean helps maintain its value and makes it more reliable," Rohrbach says.
Cleaning techniques include wiping off the top of the mower, removing belt covers and getting grass and debris from the engine block. Some items – such as the radiator, oil cooler and air intake – need to be cleaned daily, Rohrbach says.
To make sure the deck is free of debris, Cuzzort recommends using a blower to clean it out. He also suggests using a scraper or flat tool to keep the area under the mower deck clean.
4. Use the right lubricants
With ethanol mixes becoming more of an issue for small-engine equipment, it is important for landscapers to pay attention to what they are putting in their mowers.
"If a machine was stored during the winter with ethanol in it, drain and refill it," Rohrbach says. For liquid-cooled engines, he suggests landscapers look at a manual to determine the mix of anti-freeze and water.
Honda Power Equipment, which asks operators to not use more than 10-percent ethanol in their Honda mowers, recommends storing gasoline in a clean, plastic, sealed container to help prevent rust and metallic contaminants from entering the fuel system. Air and sunlight can cause gas to deteriorate faster, as well.
If there is fuel left in a storage container at the end of the year, the Environmental Protection Agency (EPA) suggests adding the gasoline to a car's gas tank – if the tank if fairly full and the fuel is appropriate for the vehicle.