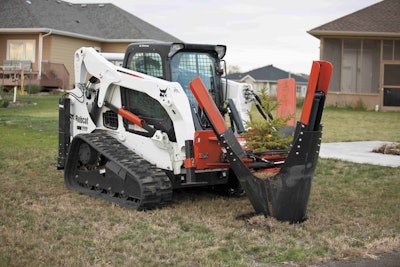 The vast selection of compact track loader models in recent years is providing landscape contractors a model tailored to each need. With an abundance of choices, how do you determine the size that's right for you?
The decision can be tricky. Although you may have a specific machine need now, you're always anticipating how your business will grow and evolve. Key considerations for an acquisition should include a machine's power and attachment capabilities, lifting capacity and track configurations, which typically increase in relation to the model's physical size.
"Landscaping needs can vary widely, but there continues to be a strong overall demand for machines and attachments that can do more work. That means matching a track loader's size and versatility to several applications," says Bobcat Loader Product Specialist Mike Fitzgerald.
Powerful performance
One of the first categories evaluated in a compact track loader purchase is simply power. The proper horsepower-to-weight ratio, as well as some manufacturers' use of direct drive motors, can translate into stronger pushing and lifting forces, better maneuverability and faster transport speeds.
Another key indicator of a compact track loader's overall performance is hydraulic power capacity. Certain types of projects require track loaders and attachments that need an extra power boost from high-flow hydraulics — an optional system from most manufacturers.
"Landscapers using attachments for a high percentage of machine operating time will see the best return on investment with this setup," Fitzgerald says.
Supportive attachments
A very common landscape installation is irrigation systems, which requires landscaping operations to consider a machine that can be equipped with a properly-matched trencher, vibratory plow or boring unit attachment.
For land-clearing applications, attachments such as a rotary cutter, stump grinder, flail cutter and chipper are practical tools. Grapple buckets and a combination bucket can also be useful for clearing brush, rocks and other debris.
For site preparation, soil conditioners, dozer blades, box blades, landplanes, laser-guided graders, tillers and landscape rakes are useful fleet additions. A silt-fence installer attachment can lower erosion control costs.
Sod laying and seeding attachments are extremely beneficial to contractors in new development. Installations of rock and hardscapes can be easier with grapple buckets, pallet fork attachments or combination buckets. And, the ability to power augers and tree spades can significantly speed up plantings.
Lift advantages
Lifting performance is another metric to analyze that improves ROI, but varies with model size. Larger track loaders are engineered with a higher rated operating capacity, allowing them to handle heavier loads of aggregates and palletized materials.
Some manufacturers offer loaders with a choice of lift arm designs. Evaluating specific applications and job duties can help buyers make the choice between a loader equipped with a vertical lift path or a radius lift path. A vertical lift path loader provides higher lift capacity and more reach at full lift height. A radius lift path loader raises the load in an arc that provides maximum reach at truck bed height. It excels at jobs with mid-range working heights, like dumping material over a wall, backfilling or loading and unloading flatbed trucks.
Maximum mobility
The length and width of a compact loader's tracks have a direct effect on ground pressure and traction. Narrow tracks provide better traction and maximize ground pressure on hard surfaces or slippery ground. Contractors may consider a wide-track option to lower ground pressure and increase floatation when working in wet, muddy or sandy conditions.
Increase your ROI
Fitzgerald offers the following tips to help increase your return on a track loader investment:
Evaluate the types of job applications/conditions.
Calculate increased utilization potential with attachments.
Minimize costs with consistent daily maintenance.
– Source: The Bobcat Company