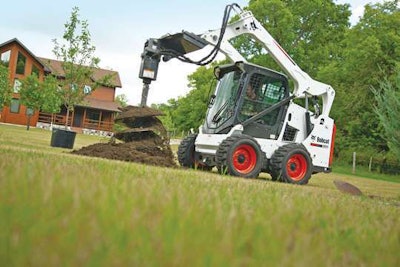 Controls, comfort and changes mean increased usage for these machines.
"Do more with less." That's a phrase spreading like wildfire around the industry, especially with the economy still recovering. But with the pressure to finish jobs faster, with smaller crews and on a tighter budget constantly weighing on landscapers, many ask how they are supposed to actually achieve that motto on each job.
Finding versatile equipment that can tackle a wide range of tasks is key, and one machine that seems to always fit the bill is a skid steer.
"A landscaper's day could include applications that vary from a 'load-and-carry' type application," says Kevin Coleman, senior marketing engineer, Caterpillar, "which could encompass traversing a larger landscape supply yard with material or retrieving material from a central location to a truck loading cycle – where palletized material, like sod or fertilizer, is required to be unloaded from a flatbed truck."
A skid steer's compact size and footprint keeps it an integral part of landscapers' fleets. And to further extend the machine's capabilities and cut down on the amount of labor required on each jobsite, landscapers continue to pair their skid steers with hydraulic work tools, says Tim O'Brien, marketing manager, Case Construction Equipment.
"For example, when installing a silt fence, a landscaper can use a skid steer and a silt fence installer attachment to replace a team of landscapers to complete the job," O'Brien says. "Overall, this allows landscapers to reduce their costs and often be more flexible in the type of work they can do."
To keep these machines moving forward, industry manufacturers have enhanced, improved and released new skid steers with landscapers' needs in mind.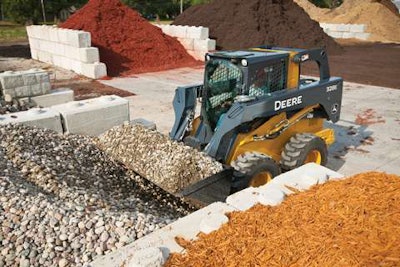 Switch up controls
For everything to mesh and work at the level jobs demand, skid steers have undergone a number of changes. "Customers want to do more with these machines and expect the cooling system, engine horsepower and hydraulic system to all work seamlessly together to maximize their productivity," Coleman says.
One area in particular that has seen improvements is the operator's working environment. "Cabs now feature improved visibility," Coleman continues. "They are sealed, pressurized and equipped with more ergonomic control arrangements, such as seat-mounted controls, that move with the operator to allow precise and easy control of the machine."
In the past five to seven years, skid steers have also started to reach further and lift higher, according to Jamie Wright, product manager, Terex. "Additional reach capabilities enable operators to better center load a truck, as well as to place pallets on scaffoldings," he says.
To compensate for both additional reach and lift capacities, wheelbases on skid steers have also increased, Wright continues. A longer wheelbase helps to give the operator a more stable platform when lifting weight to full height.
With the younger, video-gamer generation starting to find their way into the cab, manufacturers are starting to tailor the controls for their skills. Conversely, the incorporation of the attachment control in the joystick, either hydraulic or electric-over-hydraulic control, is gaining traction, Coleman says.
Many skid steers now also have selectable controls to manipulate between ISO- and H-pattern control options, appealing to a wider customer base. However, H-pattern controls are becoming less popular, Wright says.
Operators can also adjust the implement response and drive-system response with some control systems. "The adjustable implement control response allows an operator to match the speed of the implement system to meet his need for specific jobs, operating conditions and/or work tools," Coleman says. This feature gives the operator complete control over complex attachments.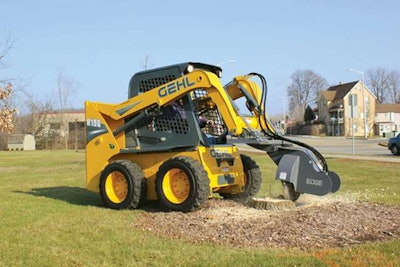 What's New?
In the past few months, many of the large equipment manufacturers have used customer feedback to create new skid steer lines.
With lower noise levels compared to its previous models, John Deere's E-Series models include electro-hydraulic (EH) controls, which are available for ISO-, H- and foot-control patterns. The skid steers also allow operators to switch between all three of these control patterns.
The E-Series comes standard with connect-under-pressure auxiliary hydraulic couplers and a courtesy lighting feature that automatically shuts the machine lights off after operation.
Takeuchi also expanded its skid steer line with the TS Series, which ranges in operating weights from 6,500 to 8,600 pounds. Operators can choose between radial and vertical lift options, and the TS Series has a 1,500- to 3,000-pound rated-operating capacity.
Standard features include a foot throttle for changing the engine speed, tilt-up operator's station, oversized axle pods, pilot-operated joystick controls, one-piece mainframe and a 12-volt outlet.
Gehl released a large-frame skid steer, the R Series radial-lift loader, which has an integrated digital display, pressurized cab and high-powered hydraulic system. The three-model series ranges in operating capacities from 2,110 to 2,780 pounds, and lift heights vary from 120 1/2 to 123 inches.
Staying with the full-sized radial lift skid steers, Mustang redesigned their R Series skid steers to offer improved visibility, a pressurized cab option and Yanmar engine with diesel particulate filter (DPF).