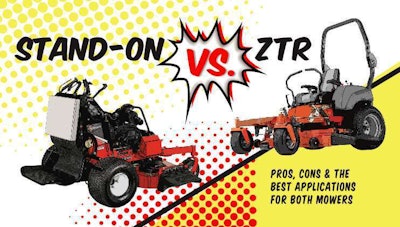 Offering maintenance service requires a well-oiled business: tracking schedules, the weather, crews and clients.
And a large part of the job relies on the equipment. To make sure you're optimizing your mowers, use them in the right applications and know their strengths and weaknesses.
Considerations
To make sure you pick the best mower for the properties you service, there are several criteria to consider.
"The size of the property the landscape contractor is looking to mow with the unit is probably the first factor I'd look at," says Daryn Walters, marketing director, Exmark.
If your clients' lawns are mostly 1/2 acre or smaller in size, a stand-on mower is probably the best choice. For properties larger than 1/2 acre, most landscapers turn to ZTR mowers, although some do still prefer stand-ons. "The productivity available with a large zero-turn rider is tough to deny, however," Walters says.
When bagging and a clipping-free finish are priorities, "the zero-turn rider is able to deal with that in a more elegant fashion, with much greater clipping capacity," Walters says.
The next thing to consider is how many machines you need to fit on a trailer, as well as what sort of footprint you can have on the site. More stand-on mowers can be transported at one time, if space is a concern. They also cause less damage to the turf – something appreciated by many customers.
"Also, consider whether or not the mower needs to serve multiple purposes," says Mark Meyers, marketing manager, Dixie Chopper. "Zero-turn mowers are ideal for a variety of applications beyond lawn mowing."
While industry pros continue to be budget conscious, finding a mower that meets their specific needs is more important than the price tag. "This type of equipment decision is need-based, not price-based," Meyers says.
"Generally speaking, there is about a 10- to 20-percent difference in price depending upon the models you compare," says Chris Russell, stand-on mower product manager, John Deere. "Of course, price is a big driver in purchase decisions, but beyond price, landscapers need to determine which machine will best fit the needs of their crew and the needs of their customers."
Applications
While both ZTR and stand-on mowers cut grass, there are certain applications they are each suited for. So, make sure you match the mower to the job.
A ZTR is most effective in wide-open spaces and for areas where the operator can stay on the machine, says Ross Hawley, marketing manager, Toro. Its productivity is also higher in these larger areas.
Stand-ons, on the other hand, are ideal for tight, smaller spaces where the operator needs to get on and off the equipment for obstacles – especially useful in residential yards, urban areas and cemeteries. They also handle hillsides well, Meyers says.
"We see our stand-on mowers most frequently used on highly landscaped properties, or any landscape where maneuverability is a top priority," Russell says.
With both mowers bringing something unique to your fleet, finding a good balance of both, depending on your services, might be the best idea.
"Nowadays, many landscapers are finding it's great to have both types of machines on their trailer to meet the varying needs of their crews and customers," Palmer says.
Stand-On Pros & Cons
| | |
| --- | --- |
| Pros: | Cons: |
| Excellent maneuverability | Typically run slower ground speeds |
| Small footprint allows machines to go more places and allows for smaller or more effective use of trailer space | Bagger solutions are limited and often have small capacity |
| Better visibility than sit-down products | Fatigue of legs, back and feet |
| Increases accuracy of trimming | Not ideal for large property or grounds |
| Homeowner perceptions can be more favorable due to smaller size | Slightly less fuel capacity |
| Easy on and off of the mower (trash obstructions, etc. | Accessories are limited |
ZTR Pros & Cons
| | |
| --- | --- |
| Pros: | Cons: |
| Fast, productive, great maneuverability | Large, relatively heavy machine |
| Best selection of engine, deck and productivity options | Shocks go into the operator's back |
| Some operators prefer sitting | Increased size/trailer footprint |
| Works well for bagging, mulching or side discharging of clippings | Slower time in and out of a site |
| Large fuel capacity, especially combined with new EFI engines | |