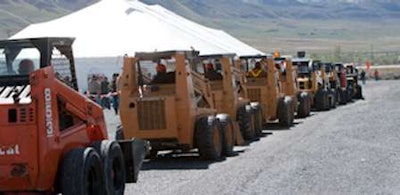 When you're in the market for a used skid steer, it's important you ask the right questions and do a complete walk-through before buying the equipment. Here's an inspection checklist you can print off and take with you.
(To read about what to ask when inspecting a used skid steer, read our November How To article.)
General
Make/Model
Serial number
Engine serial number
Year of manufacturer
Number of hours
Previous owner
Bought new or used?
Application
Maintenance history available?
Major repairs/overhauls?
Walkaround
Any damage?
Cracks/welds?
Leaks?
Hydraulic hoses/cylinders
ROPS condition
Tires
Matching?
Percent of tread remaining
Evidence of over-the-tire track use?
Bucket/attachments
Yardage
Type (rock, general purpose, etc.
Visual inspection
Cutting edge condition
Other attachments?
Cab
Overall appearance
Glass condition
Gauges working?
Lights working?
Seat condition
Safety
Restraining seat bar
Seat belt
Operator's manual
Operational checklist
Operate the machine through several cycles, noting any noises, hesitation, sluggishness or shimmying:
Drive in forward/reverse (Does the backup alarm sound?)
Move left/right
Cycle lift arms up/down
Tilt bucket
Engine
Noises?
Oil leaks?
Oil condition/level
Filters
Cooling system
Radiator condition
Coolant leaks?
Coolant level
Air filter condition
Hydraulics/Electrical
Oil level
Condition
Condition of cables, battery
Note: This article is intended as a checklist of considerations when buying a used skid steer loader, not as an all-inclusive guide.