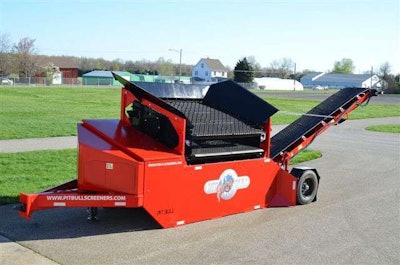 The Pitbull 2300 Screening Plant from Lake Erie Portable Screeners gives landscapers a portable machine designed for jobsites.
Available in diesel and electric-powered models, the screening plant can process a variety of materials including topsoil, mulch, gravel and asphalt.
The machine incorporates full hydraulic operation, tubular frame construction, a Torflex axle and a reversible shaker.
The tubular construction reduces noise and vibration, which in turn minimizes the risk of cracks and structural failures that are common in machines with C-channel construction.
The screening plant features attachment points and stress points that are welded, and the machine has a curb weight of 13,440 pounds.
The Pitbull 2300's 20-foot-long stacking conveyor adjusts hydraulically from heights of 6 feet, 8 inches up to 13 feet to feed material directly into a tri-axle or dump truck.
The machine has a width of 8 feet, 4.5 inches and either a standard pintle hitch or optional gooseneck towing package, as well as a 10K Torflex axle with oil bath hubs.
The screening plant is equipped with a loading apron that accepts up to 3 yards of material at a time and up to five yards at a time with a slower dump speed. With its low dump height of 8 feet, 4.5 inches, users do not need loading ramps; they can fill the hopper using typical construction equipment like skid steers, backhoes, loaders or excavators.
The machine also includes an upper and lower screening deck, each with more than 41 square feet of screening area. The upper and lower decks are equipped with two sections of screening media on each deck.
The company offers optional punch plate or finger decks for the top deck in addition to a wide range of screen sizes for processing all types of materials.The screeners also can be equipped with optional upper and lower discharge chutes to allow for up to three different sizes of screened materials.
In addition to the adjustable stacking conveyor, the Pitbull 2300 features a hydraulically driven transfer conveyor that moves screened material from the hopper to the stacking conveyor. Hydraulic motors on the conveyors provide continuous flow of power to achieve production rates up to 100 yards per hour.
The unit's power plant is equipped with a 47-horsepower Yanmar diesel engine that complies with 2008 EPA Tier 4 and EU Stage IIIA emissions standards. The company also offers a 60 horsepower, 480-volt AC electrical package for applications in confined or enclosed spaces like tunnels, mines and indoor projects.