Over the years, advances in controls have greatly improved intuitiveness and thus simplified the operation of construction equipment in many cases. Beyond that, ever-improving GPS technology and machines like Komatsu's intelligent Machine Control dozers and upcoming excavator, point to a not-so-distant future where a lot of operators could be doing so from outside of their machine entirely.
But a company called Humanistic Robotics is looking to improve the state of remote control equipment operation for those contractors and operators who see the benefits of operating outside of the cab today. The company's new wireless Safe Remote Control removes the tether to the machine most remote control systems require in a package that anyone who has every played a video game on an Xbox will be familiar with.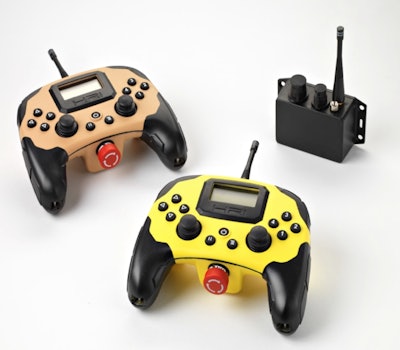 The Safe Remote Control's most obvious feature is its design which combines the look and feel of an Xbox controller with the button and analog stick layout of the PlayStation controller. The controller connects to HRI's Vehicle Safety Controller receiver and have a very low-latency response, typically less than 40ms and a guaranteed emergency stop response of no more than 250ms. The controllers also feature a built-in display where machine information can be read. They even feature vibration motors to give directional rumble feedback to those operators who miss the tactile feedback inherent to conventional machine controls.
And while a view from outside the cab may take some operators some getting used to, the ease of use of such a controller and the fact that operations can be mapped to buttons however you like could give many operators even more flexibility and control of their machines.
The controllers work up to 1,000 feet and even come in customizable colors. They weigh about a pound and are designed to meet MIL-STD-810 spec which means the controllers can stand up to drops, severe shifts in temperature, humidity, rain, dust and more. HRI says the controller lasts about 12 hours on a single charge but can be used while recharging as well.
Looking forward, in the same way the ease of operation featured by Komatsu's iMC dozers could make a big difference at a time when skilled and experienced operators are increasingly harder to find, controllers like HRI's could open up the world of equipment operating to a whole new generation of kids who grew up with video game consoles featuring similar controllers. And while the ability to be as precise with one of these controllers as one would be inside the cab using conventional controls is certainly up for debate, at the very least the controller adds another worthwhile option to the operators' arsenal in specific use cases.
That being said, telematics and GPS machine control continue to advance in capability, it's not too far-fetched to imagine equipment operation in the future looking a whole lot like video games today, with operators controlling machines with these gamepad-like controllers and viewing their work from widescreen displays miles away from the jobsite.
Editor's Note: Wayne Grayson is the Online Editor for sister magazine Equipment World.