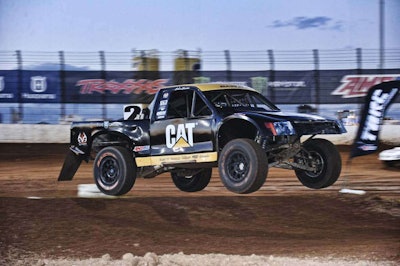 Though the machines it sells are known more for their brawn than their speed, motorsports are nothing new at Caterpillar. For decades, Cat Racing has fielded a car in NASCAR races and has a strong driver behind the wheel of the no. 31 Caterpillar Chevrolet in Ryan Newman.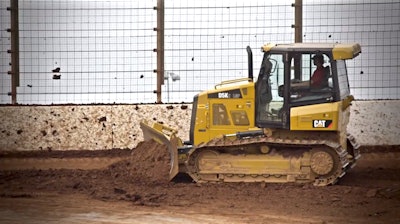 But recently, the company got the opportunity to enter a motorsport that embodies everything it's about.
In May, it was announced that not only would there be a Cat truck racing in The Off-Road Championship's 2014 season — a short-course, off-road racing series — but TORC is now using Cat machines to build and maintenance the tracks.
"What really draws you to these races is that the core of it all is dirt. And that's the core for Caterpillar — dirt," says Jason Becker, Cat's national association manager. "Getting in the dirt and building something. Durability. All of the things our company stands for, this sport really is. In this case, it's rough, it's engines, it's what our customers really love to do."
On a race day, Becker says a TORC event can host as many as 10 races. The races only last about 20 or 30 minutes, but pack a lot of action. The trucks go airborne often and the speed, loose soil and contact amount to quite a bit of carnage with pieces of trucks flying and a lot of dirt to be rearranged on the track in between races. And everything usually has to be ready to go again in as little as eight to 10 minutes, Becker says.
[youtube Apkn-ti0vHE nolink]
Editor's Note: Wayne Grayson is the online editor for sister magazine Equipment World.