These machines may be compact, but their features are anything but lacking.
With several compact excavators being released at the 2014 GIE+EXPO in October and others earlier this year at ConExpo-Con/Agg, a few trends have emerged.
In addition to a continued focus on reducing emissions, manufacturers have also started including more electronic features.
Caterpillar's E2 Series includes a digital control panel called COMPASS, which stands for complete operation, maintenance, performance and security system. This panel includes an anti-theft system, which requires a five-digit alphanumeric password to start the machine, and an automatic engine-idle selection, which drops engine rpm to idle after 4 seconds of inactivity.
Takeuchi's TB230 compact excavator also has electrical features such as a multi-information display. It includes digital gauges for the coolant temperature, fuel/water sensor, high engine coolant temperature, engine air filter restriction, fuel filter restriction, low fuel level, automatic idle, engine preheat, travel speed indicator and work light indicator.
Read more about these and other new compact excavators, plus maintenance tips to keep these machines up and running.
_________________________________________________________________________________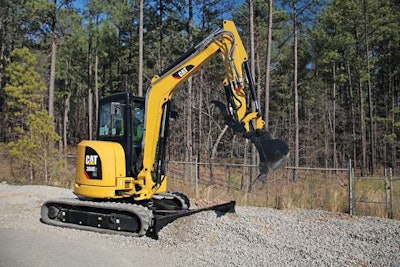 Caterpillar E2 Series
The five compact radius Caterpillar E2 Series compact hydraulic excavators – 303.5E2, 304E2, 305E2, 305.5E2 and 308E2 – use a high-definition hydraulic system, which provides a load-sensing and flow-sharing capability. Updates include a redesigned operator station with a wider opening, suspension seat and an interlocking front window system. Smart Technology is a new feature of the 303.5E2. All of the E2 series models are equipped with the digital control panel specially designed for Cat's compact excavators. Click here for more information.
_________________________________________________________________________________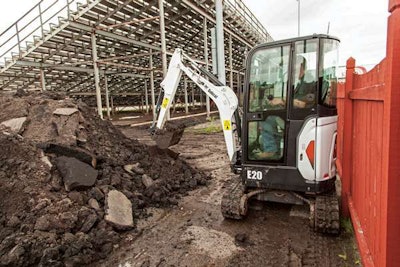 Bobcat E20
Bobcat's zero tail swing (ZTS) E20 compact excavator is 53 inches wide, but hydraulically, you can retract the undercarriage down to 39 inches. The 13.9-horsepower model also has blade extensions that can be removed. The Bobcat E20 replaces the 324 excavator model and features auto-shift drive, a fingertip auxiliary boom swing control and an automatic slew brake. The Tier 4-compliant E20 has a maximum reach of 14 feet, dig depth of 8 feet 6 inches and dump height of 8 feet 8 inches. Click here more information and to watch a video walk-around of Bobcat's E20 compact excavator.
_________________________________________________________________________________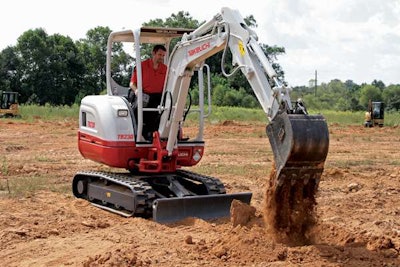 Takeuchi TB230
The Takeuchi TB230 compact excavator has multi-function electronic displays and improved visibility compared to previous models. With an operating weight of 6,607 pounds and a bucket breakout force of 6,471 pounds, the TB230 has a sleek, redesigned exterior. The well-appointed operator's station includes a multi-function monitor, function switches, electronic throttle control and precision pilot controls with a proportional slide switch to control auxiliary hydraulic functions. The TB230 excavator features a 24.4-horsepower Final Tier 4, computer-controlled Yanmar engine. Click here for more information.
_________________________________________________________________________________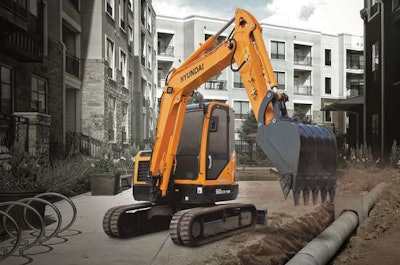 Hyundai R60CR-9A
The Hyundai Construction Equipment Americas R60CR-9A compact radius excavator is equipped with a 63-horsepower Tier 4 Final Yanmar engine. The excavator has a maximum dig depth of 11 feet 9 inches, and it has a 3.7-foot tail swing radius. The R60CR-9A's boom swing function allows the boom to be offset left or right within an operating range. Other valuable features include a hydraulic damper in the travel pedal and a hydraulically lubricated swing reducer with a leak-free grease chamber. The model has a wide-open engine hood, centralized grease fittings and a tilting cabin for servicing. Click here for more information.